It's the height of summer. That means quite a few things:
Going to the farmers market each week only to find tantalizing produce, not just yarn and honey.
It stays light so much longer.
Pre-dinner cocktails while sitting on the front porch.
Loving and hating the air conditioner.
Dresses! I pity men who can't wear them all summer long.
Riding my bike around, and not just for exercise!
BBQ! Everything.
Salads, lots of salad.
It being too hot to even think of turning on the oven.
If you're anything like me, you take the last two mentions very seriously.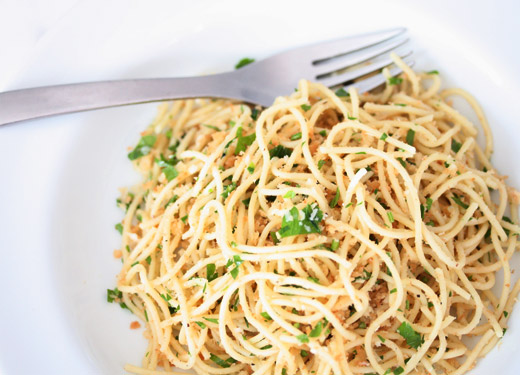 Yes, salad means vegetables, and sometimes fruit. It also means pasta. And not the pasta salad of yore– tri-color fusilli, sliced olives, and "Italian" dressing– but cold spaghetti, toasted bread crumbs, a good amount of parsley, and lots anchovies. (Yes, anchovies. Even if you don't like these little fishies on their own, they're a must in this salad!)
There's not much that traditionally Italian about this salad– except the fact that it's made with spaghetti. It's cold, for one thing; or at the very least, room temperature. I rinse the pasta after I boil it– starch is the enemy of pasta salads. But that's ok; this salad is all about flavors and textures. The flavors should be bold: the briny anchovies, the salty Parmesan cheese, and the freshness of the parsley. The breadcrumbs should be dry and toasted, that way they cling to the pasta, drying it out and giving the salad a nice crunch. This is not a slippery salad.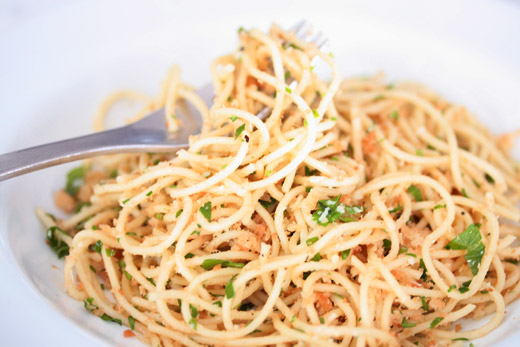 I've made this cold spaghetti salad quite a few times already this summer, and there's not really a recipe. It can be adapted to your own taste. It's as good the next day, as the day you make it. So go ahead, and play around, but here are the basics:
Spaghetti Pasta Salad
1/2 pound spaghetti
1/3 cup olive oil
a few cloves of garlic, smashed
1/2 can anchovies, minced
red pepper flakes
parsley, minced
grated Parmesan cheese
1/2-3/4 cup toasted fresh breadcrumbs*
salt and pepper
Boil the pasta in  salted water until cooked. Drain well, and rinse well under cold water. Put in a large bowl, and toss in a few tablespoons of olive oil to coat. Set aside.
In a skillet, over medium heat, add the remaining olive oil and a few cloves of garlic. Saute until cloves are beginning to brown, then add the anchovies and the red pepper. Continue to saute until the anchovies melt and begin to muddy the olive oil. Pour mixture over the spaghetti, and toss well.
Add the parsley, cheese, and breadcrumbs, and season with salt and pepper. Check for seasoning. The pasta should be well seasoned, as the flavors will dull slightly in the refrigerator. Salad can be made and refrigerated ahead of time.
* If you don't have fresh breadcrumbs, panko breadcrumbs are a good substitute. Before, simply toast in a bit of olive oil until golden brown.