This is the type of cake that calls to you. You may find yourself cutting thin slices off whenever you pass through the kitchen. It isn't too sweet, and it is incredibly moist. I read a lot of recipes, and their are some cake recipes that claim to actually get better with age. I had never experienced this, and didn't really believe it to be true– until this cake. I swear! On day two, it was more complex, and had settled into itself!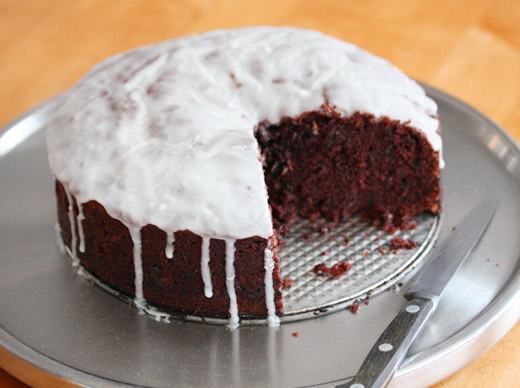 It is July, which in the kitchen can mean many things. Lots of salads, no roasting or braising for long periods of time, ice cream is your friend, etc. But one rule holds true– there is most definitely a glut of summer squash. It may be growing in your garden, cooling in the fridge, setting on the counter. Now I like zucchini as much as the next person. I will eat it in various savory accoutrements– even multiple times a week. You probably would like to have me around. But for the most part, sweet zucchini bread and tea time zucchini muffins leave me rather cold. But then I saw this recipe– with chocolate– and I decided to branch out.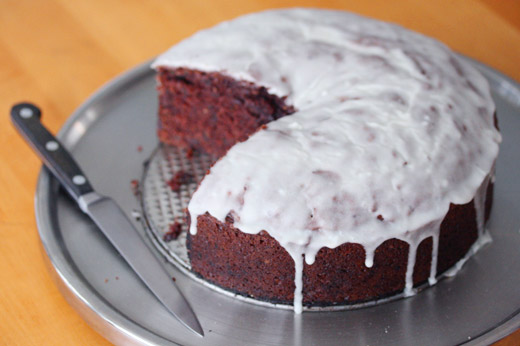 This cake will not solve all of your summer squash abundances. It only uses two medium squash. But it will have you feeling virtuous– both for using things up, and incorporating a vegetable– something that is otherwise good for you– into a dessert. Maybe you can even have a slice of this cake for breakfast! (I did, and can say, paired with a glass of cold-brewed coffee, it is superb.)
Made with buttermilk, the cake is doubly moist. And for those people, like my husband for instance, who is very skeptical of vegetable-oriented desserts, the grated squash virtually disappears into the body of the cake. The chocolate is present, but not overpowering. I made two additions to the recipe. I added one cup of mini, semi-sweet chocolate chips, which where great. They melted into the cake and made it slightly richer, and I added a simple glaze, because I can't leave well enough alone.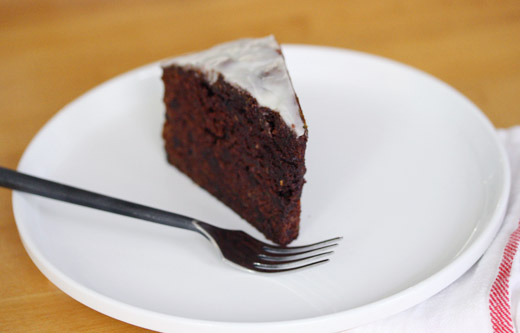 Chocolate Zucchini Cake
adapted slightly from Saveur
2 medium zucchini (10-12 ounces) trimmed and grated on the large holes of box grater
2 3/4 cup (13 3/4 ounces) all-purpose flour
1/4 cup (3/4 ounce) unsweetened cocoa
1 1/4 teaspoon baking soda
1 teaspoon kosher salt
8 tablespoons unsalted butter, room temperature
1 1/2 cups (10 1/2 ounces) sugar
2 eggs
1/2 cup canola or vegetable oil
1/2 cup buttermilk
1 teaspoon vanilla
1 cup mini chocolate chips (optional)
Glaze:
1 tablespoon unsalted butter, melted
1/2 cup (2 ounces) powdered sugar
1-2 tablespoons cream
Preheat the oven to 325 degrees. Grease a 9 inch, deep, springform pan. It is important that you use a deep pan. This is a tall cake, there is quite a lot of batter, and it rises.
Working in batches, squeeze as much liquid as possible from the zucchini, and set aside. In a medium-size bowl, whisk the flour, cocoa, baking soda, and salt together.
In the bowl of a stand mixer, beat the butter and sugar together, until light and fluffy. Beat in the eggs, one at time, until fully incorporated. Mix the oil, buttermilk, and vanilla together. Add 1/3 of the flour mixture into the sugar mixture, mixing well. Add 1/2 of the buttermilk mixture, mixing well. Repeat the additions, ending with the flour mixture, and mix well to fully combine. Fold in the zucchini and the chocolate chips.
Pour the batter into the prepared pan. Bake for approximately 1 hour 20 minutes, or until a toothpick inserted in the center comes out clean. Remove from the oven, and cool for 30 minutes. Remove the outer ring, and let the cake cool to room temperature.
Make the glaze: In a small bowl, mix the melted butter and the powdered sugar together. Slowly add the cream until a smooth glaze is formed. It should be of pourable consistency.
Pour the glaze over the cooled cake, letting it drip over the sides. The glaze will harden some, but will still be sliceable.