My sister visited from California last week, pill so one day we went to the city. It was one of those perfect New York days. The sun was mostly shining, the weather was warm, and the stench of sidewalk trash had yet to set in. We didn't really have a plan, no dinner reservations to catch, no ticket times to observe, we just walked– from the Flatiron to the West Village. We had a stupendous late lunch, and then we just meandered around the Village. This eventually led to a stop at the original Magnolia Bakery. It had been years since I had been there. In fact, I don't think I ever stopped in when I lived in the city.
My sister and I both have an enormous sweet tooth, and it's difficult not to become swept up by the mounds of buttercream, and cascades of sprinkles, that overrun that shop. We each got mini cupcakes, because a cupcake at Magnolia Bakery is a prerequisite, and a single serving of their banana pudding. The cupcakes were a complete disappointment, so let's not even discuss them! This is a post about pudding, and their banana pudding was divine! Rich, super creamy, not overly sweet, it tasted very homemade.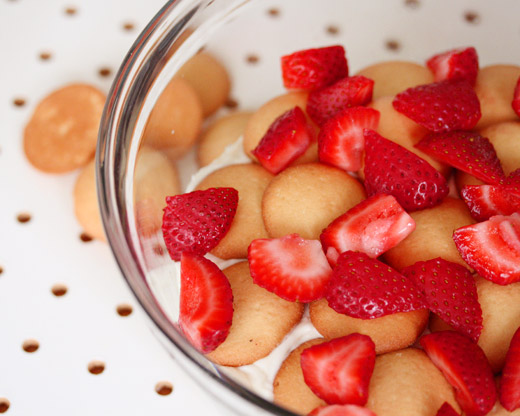 That night, when I got home, I pulled out my Magnolia Bakery cookbook (a cookbook that I'll admit to never really using!), and found the recipe for Banana Cream Pudding included. I was sort of aghast. The dreamy pudding that I imagined bakers stirring endlessly over double boilers, was really just a strange combination of instant pudding and sweetened condensed milk. A healthy dose of whipped cream is what made the pudding light and airy. And the vanilla wafers– they weren't made from scratch either. Try a box of Nilla wafers!
From this I learned that sometimes no slaving is needed to make something delicious. I went to the market post haste to buy my "cooking" supplies. With the glut of fresh strawberries at the market right now, it seemed a shame to limit the pudding to only bananas. Strawberry pudding it would be. In the pudding aisle, there was a box of white chocolate pudding right next to the vanilla. If I already was making a fruit substitution, why not a pudding substitution as well?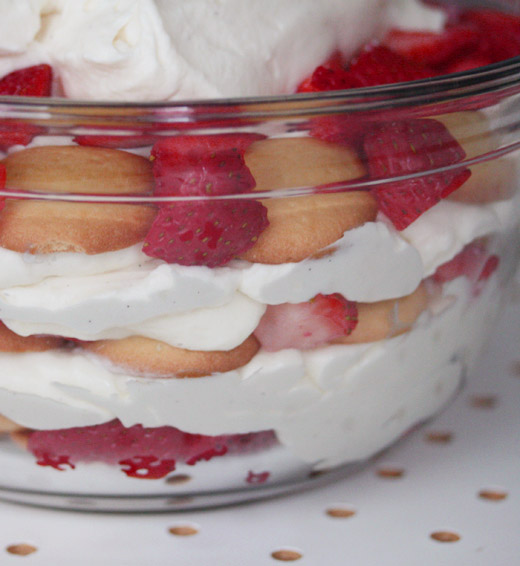 Following the banana pudding recipe, I mixed up the pudding with the strange concoction of sweetened condensed milk and water and let it set overnight. The next morning, I whipped the cream, using only half of the called for measurement, and folded it into the now-set pudding. Then the layering began of wafers, strawberries, and pudding, all nestled in a clear glass bowl. Topped with cookie crumbs, the whole mess went back into the fridge to soften and meld until dessert was served.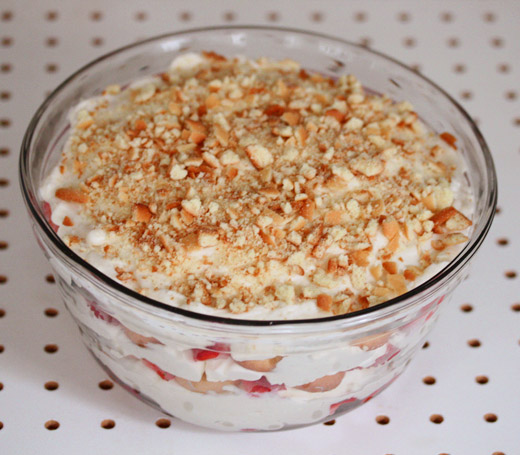 And the pudding was pretty outstanding. The wafers were perfectly soft, and blended into the pudding. The strawberries were wilted, but still maintained their integrity, and the entire dish, although laden with cream and cookies was somehow light. It was sort of eating a big bowl of strawberry shortcake, that was already mixed up for you.
Do I feel bad that every step of this pudding was pre-made? I guess not. Will I be making it again? Oh yeah!
Strawberry Pudding

adapted from Magnolia Bakery's Banana Pudding
Everything about Magnolia Bakery is excessive, so while this pudding is inspired by the bakery's pudding it is more ascetic (if a fruit pudding can even BE such a thing). It is restrained, smaller, but the pudding still feeds at least 8. It stays in the fridge for a few days, but the wafers will get softer each subsequent day.
1 14 ounce can sweetened condensed milk
1 1/2 cups ice cold water
1 3.4 ounce box instant white chocolate or vanilla pudding mix
1 1/2 cups heavy cream
1 12 ounce box vanilla wafers (you won't be using the entire box)
3 cups ripe strawberries hulled and sliced (about 1 pound)
In a medium bowl whisk together sweetened condensed milk and water until blended. Add pudding mix continue to whisk into fully incorporated. The mixture will still be liquid. Cover with plastic wrap and chill for a minimum of 4 hours or up to overnight.
Once pudding has set, whip heavy cream in a large bowl with an electric mixer until stiff peaks form. Fold pudding into the whipped cream until completely blended.
In a large 2 1/2-3 quart bowl, preferably clear, begin layering in the ingredients starting with the pudding, wafers, and finally the strawberries. Repeat the layer 3 times, ending with a layer of pudding. Garnish with cookie crumbs, cover with plastic wrap, and chill for an additional 4 hours or up to 8.