Sourdough amazes me, recipe discount and popovers do too. When they come crashing together it's a delicious thing to behold.
I am enthralled with sourdough bread–how basically a handful of ingredients: flour, ailment water, and salt, can make a crisp, webby loaf of bread– it gets me every time. I feel like I am truly making something great out of very little. In my research for the the book, I found a lot of sourdoughs that were given a little help with commercial yeast. I understand why. Yeast speeds the process; it insures levity; it can help. But it also seemed like cheating and  I didn't want my recipe to be a cheat! It was important to me to have a reliable, easy sourdough starter, that used NO commercial yeast– that did it on its own. If homemakers, settlers, and pioneers, could bake sourdough bread without the aid of commercial yeast hundreds of years ago, surely we could do it in 2015!
It took awhile, but I developed a starter that works for the home chef, and it's been going strong now for over two years. The recipe for the starter is in United States of Bread along with several recipes for loaves, but now that the book's out, I have begun experimenting more with my starter. There have been waffles (stellar!), and pancakes (to die for!). And last weekend there were these superb popovers.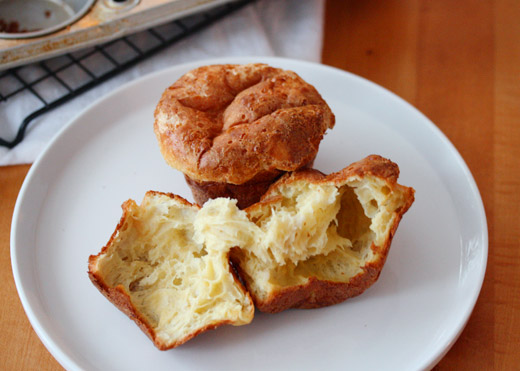 Typically, popovers aren't made with any sort of leavening. Made in a hot pan, they display the alchemy of baking by transforming from a runny batter, into an eggy, puffy dream. The sourdough popovers, made with a bit of sourdough starter, is leavened and more substantial than the original, but this resulting popovers is like a whipped muffin. (If that makes any sense!) Still airy, still eggy, slightly sour, with substance from the starter, these popovers only needed a smear of jam and a cup of coffee. Forget Wheaties, this was my breakfast of champions.
This morning treat does behave like a standard popover– they rumple and deflate– so they really should be eaten moments from the oven. I don't have a popover pan, so mine were made in a muffin tin. If you don't have a popover pan either, just try to space the popovers out in the tin. This allows for expansion.
Sourdough Popover
from the King Arthur Flour website
1 cup milk (I used whole)
3 large eggs
1/2 cup sourdough starter
3/4 teaspoon kosher salt
1 cup (5 ounces) all-purpose flour
Makes about 9 popovers
Preheat oven to 450 degrees. Place a muffin tin in the oven to preheat as well.
Warm milk slightly, it is fine to do this in the microwave. Combine the milk, eggs, starter and salt. Add the flour and mix. It is fine if lumps in the batter remain; don't overmix.
Carefully remove the hot pan from the oven. Spray well with cooking spray, or brush with melted butter. Pour batter into the tin, filling the batter almost to the top.
Bake for 15 minutes, then reduce heat to 375 degrees and continue to bake for 15-20 minutes, until popovers are golden brown.
Remove from the pan. You may need to pry the popovers from the tin with an offset spatula. Serve immediately.
My weekend was filled with long walks, hospital frigid wind, cialis 40mg taking my trike out for the inaugural ride of 2015(!), eating far too many Cadbury mini eggs, and matzo brei. A typical Easter/Passover weekend. My mom converted to Judaism when she married my dad, so growing up, we had a fairly normal, suburban, Jewish home, filled with dreidels and shabbos candles. The only bit of cross-pollination that remained from my mother's Catholic upbringing was the Easter basket. On Easter morning, my sister and I would wake up to a pastel basket, overflowing with multicolored straw, and egg-shaped chocolates nestled throughout. They were a delight!
And you know what else is a delight, but for different reasons? Matzo brei! It's one of the many dishes that Jews will eat during the week after Passover (this year it's right around Easter) when eating anything leavened is forbidden.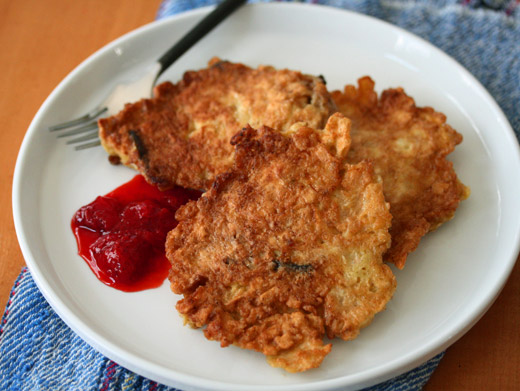 Typically, matzo brei is matzo, crushed then softened in hot water, and scrambled in eggs– very simple, and very quick. It can be eaten on the savory side (fry some caramelized onion with the eggs and serve with sour cream), or the sweet (sprinkled with cinnamon-sugar with a side of apple sauce). Some people say that matzo brei is the sort of food that one has to grow up with in order to truly like. It's true that it doesn't sound like much– and that's because it's not. Like a bowl of rice (another forbidden Passover food), it is perfectly bland, subtle, and could be mistaken for baby food.
The kind of matzo brei that I most prefer, uses the same ingredients, it is how they are handled that differs. I make a sort of pancake from the batter, not the typical hard scramble. The matzo is soft and swollen, and the egg acts as a binder. Fried in oil and butter, the brei gets golden around the edges with a casual chew. You can have this matzo brei either sweet or savory. I had a tired basket of strawberries in the fridge so I made a compote from them. Waste not, want not!
I made matzo brei to celebrate Passover, but this dish one of those meals that's made year round at my house.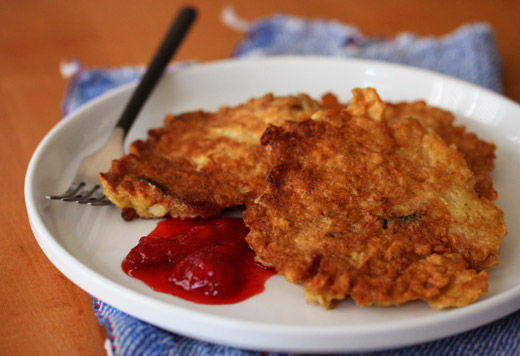 Matzo Brei
Depending on appetites, the general rule for matzo brei is one egg and one sheet of matzo per person. Believe it or not, I find those swollen sheets of matzo quite filling.
2 sheets of matzo
2 eggs
large pinch of salt
1 tablespoon flavorless oil, like canola
1 tablespoon butter
Makes 2 servings, 6 pancakes
In a colander, or sieve, crush the matzo into pies about 1 inch square. You want some irregularity in the size. Run the colander under hot water for 30 seconds to 1 minute, until the matzo is softened and swollen. Shake the colander of excess water, gently pressing the matzo.
In a medium-sized bowl, beat the eggs with a fork. Season with the salt, and then add the matzo.
In a large skillet, over medium heat, add the oil, and melt the butter. Spoon in the matzo brei batter, like you would pancakes. Depending on size, the recipe should make 6 pancakes. Cook until golden brown at edges, about 2 minutes. Flip, and continue to cook on the other side until golden brown, about 1 minute.
Remove from pan, and serve with apple sauce, sour cream, or compote.