Bitter cold mornings?
Check.
Changed your the sheets on your bed to flannel?
Check.
Leaves almost completely fallen off the trees and into messy piles of muck?
Check.
Preparing yourself for winter? Oven is being turned on more often?
Check. And check.
Me too. This recipe is for a quickbread from my book. It's one of those recipes that sort of sneaked up on me, visit and weaseled its way into my culinary lexicon– one that I find myself baking time and again. Maybe its because it's dead simple, or perhaps it's because I usually have all of the ingredients in my pantry, or maybe it's because it is just delicious!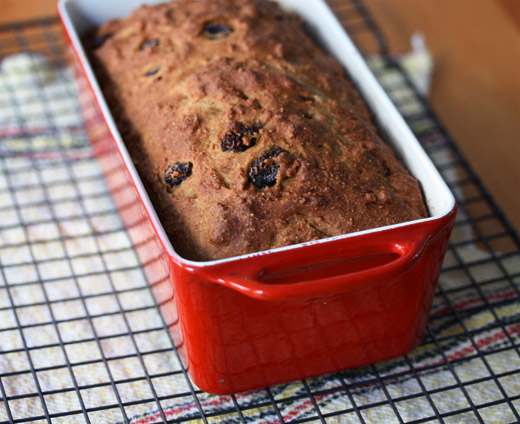 This bread is made with Graham flour– a flour that was new to me. I was familiar with Graham crackers (adorned with peanut butter– sign me up!), but I had never baked with the flour. Graham flour is one of those old-fashioned, regional New England flours from the 19th century. Created by Sylvester Graham, a preacher and one of the countries first health nuts, this flour is similar to whole wheat, but it grinds the entire wheat berry at coarser levels. The result is a rich, nutty, and slightly sweet flour.
This recipe hales from Vermont and uses a bit of pure maple syrup. With just a hint of brown sugar, and raisins– for added sweetness and chewiness, it's dark and sustaining. This is a humble bread, but once released from the pan, and set to cool on a rack, I find myself returning to the kitchen and slicing off piece after thin piece and slathering it with salted butter. It's one of those simple yet superb recipes, and a very good reason to turn on the oven!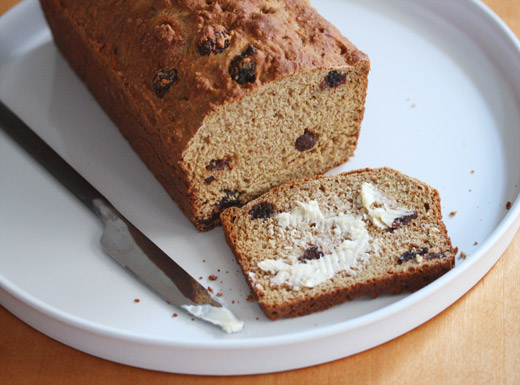 Vermont Graham Bread
from United States of Bread
Makes 1 loaf
1 1/2 cups (7 1/2 ounces) graham flour
1 cup (5 ounces) all-purpose flour
1 1/2 teaspoons baking soda
1/4 teaspoon ground nutmeg
1/2 teaspoon kosher salt
1/3 cup (2 ounces) brown sugar
1/4 cup pure maple syrup
1 egg
1 cup buttermilk
1/2 cup (21/2 ounces) raisins
Preheat oven to 350°F. Butter, or lightly coat a standard loaf pan with cooking spray.
In a large bowl, whisk the flours, baking soda, nutmeg, and salt together. Set aside. In another medium-size bowl, whisk the brown sugar, maple syrup, egg, and buttermilk together until well blended. All at once, add the wet ingredients to the dry ingredients, mixing until just combined. Fold in the raisins.
Pour batter into the prepared loaf pan, smoothing the top. Bake for 45 to 50 minutes, or until the bread is lightly browned, and a toothpick inserted in the center of the loaf comes out clean. Cool in the pan for 10 minutes, then unmold. Bread can be sliced and eaten while still warm.
Note:
Graham flour can be found in health food stores, and some grocery stores. Bob's Red Mill, as well as Hodgson Mills make great graham flour. If you are having trouble finding it, you can substitute whole wheat flour, though the bread will not have the same nuttiness, or flavor.