I mentioned last week that I would be doing a local television spot. Well, remedy store I did it; and it's up on-line. The host and I chatted about pumpkin pie (complete with roasting your own pumpkin). Then I demonstrated making the filling, information pills which couldn't be any simpler. If you're looking for a holiday dessert recipe, this one is a classic– rich and delicious.
[vimeo 83045078 w=530]
For those of you in the New Haven area, I am also appearing at the main branch of the New Haven public library to talk pie tomorrow at 6 pm. There will be samples, so come down, I'd love to see you!


I realize that I remain rather anonymous to all of my blog readers– well, ask no more! Yesterday I did a segment on Connecticut Style, ailment a local show that airs from WTNH, the local ABC affiliate, right here in New Haven. Now you all know that Connecticut is highly regarded for its style…Christmas sweater anyone? I'm kidding!
Connecticut Style is a nice, weekday program, hosted by Sonia Baghdady and Desiree Fontaine, featuring local guests from all walks of life, with a cooking segment virtually every day. They were nice enough to let me come on the program, talk about my book, and cook a piece of fish. But I wasn't the only guest…my segment followed an interview with Marshmallow the therapy dog, a fluffy Bichon Frisé (with a headshot, to boot) and his owner, Paul Rothberg.
Here's my clip:
[vimeo 83045640 w=530]
If you want to see Marshmallow, you have to visit Connecticut Style!


Perhaps some of you may have noticed that my postings have been less frequent as of late. Well, I haven't found a new love, viagra approved nor have I had a baby, site nor have I won the lottery. The big news is that as of August 1st, I will no longer be a resident of the balmy Bay Area. My husband and I will be moving to New York City.
Anyone who has made the cross-country move knows what I mean when I say, "It's a giant pain in the ass!" With packing up belongings, finding a place to live, waiting for the said belongings to reach NYC, etc., it's going to be a little difficult to get around to cooking, and to blogging. As I pack away my pots and pans, I think about favorite dishes that have been made with them. Having been born and raised in the Bay Area with a wealth of California produce, I am sad to see the local spherical summer fruits roll away. But I am excited to explore a new city (one as rich and lively as New York), to sample new cuisines, and to buy new groceries.
So until I return to the blogosphere (which won't be too terribly long, I hope) I leave you with the Dancin' Man from Central Park. Obviously, he's excited about the move as well.
[vimeo 83045638]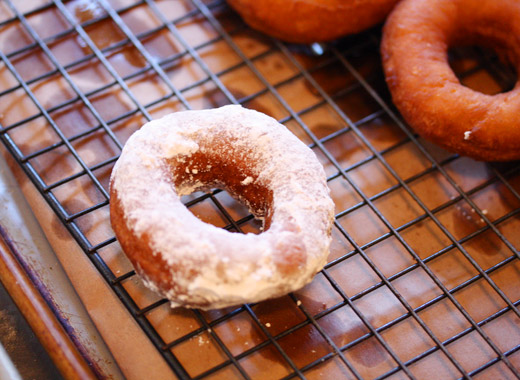 National Doughnut Day may have passed, information pills but that doesn't (and shouldn't!) mean you have to stop eating doughnuts. If you've never made doughnuts– it's time– you're in for a treat!
A few weeks ago I wrote a piece for Food52's Heirloom Recipes column. It's for "Best Ever Doughnuts" a recipe that came with my grandma when she moved to California from South Dakota. This cake doughnut is crispy outside, online pillowy inside, with just the right amount of sweetness.
My grandma used to make these for me on very special occasions– but I think this coming weekend is special enough for you to give them a try! If you'd like to read the story, or get the recipe it's right here.