My husband and I have a tradition. Each year, salve when the weather finally gets warm, viagra sale the ground begins to thaw, find and little streams erupt, letting water trickle over the rocky landscape– we go foraging for ramps. We will go for a hike, and from past experience, we know where they hide. The first one we spot is always the most thrilling, like a hidden gastronomic treasure. They are truly the first, local green edible we have.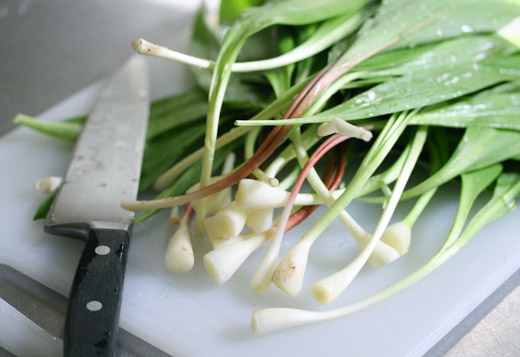 After a season's worth of cellared carrots and winter squash, I enjoy the ramps with gusto. I will cook with them at every meal– grilled and sprinkled with Maldon, or sliced and sauteed with a grain, or eaten whole after a wilting in my cast-iron skillet. Frankly, I eat them until I almost become tired of them. (Isn't that the point of seasonal eating anyway?) And when this happens, I always make pesto out the rest of my booty.
A blitz in the food processor gives new life to this vegetable. Ramps can be bracing, garlicky, oniony, peppery (halitosis, anyone?). But given a quick blanching and then pureed, and the strength of flavor mellows into a lovely springtime concoction.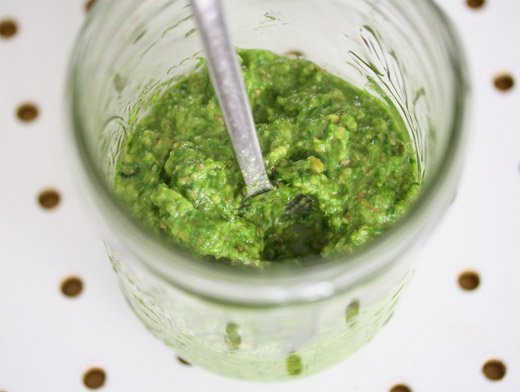 There really is no hard and fast recipe for ramp pesto. Depending on how you use it, and your accessibility to these beauties, the texture of the pesto can change– more paste-like if you're using it to top pasta, thinned with olive oil and used as an accent in any number of dishes. Just remember, it's important to blanch your ramps, especially the bulbs, before making the pesto, or you will be exposed to the aforementioned ramp breath.
Ramps are still growing in Connecticut, and are even at the farmer's market, but you must act quickly– they're appearance is fleeting. If you can't find ramps, this pesto would be different, but equally delicious with spring onions. Here's my basic recipe. Enjoy your spring!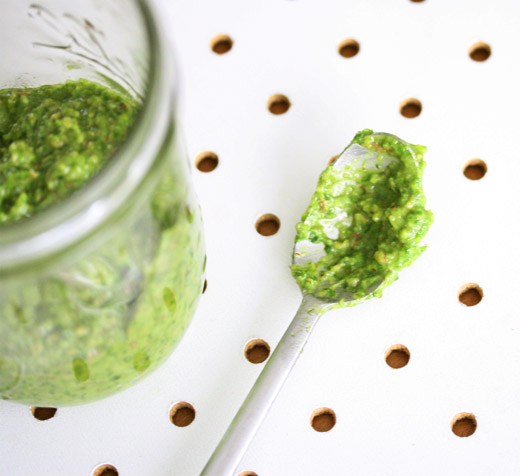 Ramp Pesto
bunch of ramps, cleaned and trimmed
handful of roasted almonds
zest of a lemon
olive oil
salt and pepper, to taste
Boil a large pot of water. Cut the bulb, and the rosy stem end of the ramps, separating it from the leafy green ends. Drop the bulb end into the boiling water, and boil for about 45 seconds, the bulb should be beginning to soften. Add the greens, and continue to boil briefly, about 15 seconds. With a spider, remove the bulbs and greens from the boiling water, and put in the bowl of a food processor.
Add a handful of almond to the blanched ramps, and process to a paste. Add the lemon zest, turn on the food processor, and slowly dribble in olive oil, until desired consistency is reached. Season with salt and pepper. If you are using the pesto right away, feel free to add some grated Parmesan cheese. The pesto also freezes well, simply defrost when a taste of spring is desired.