Is it a donut or a muffin? It's both. And I sort of didn't believe that it could be.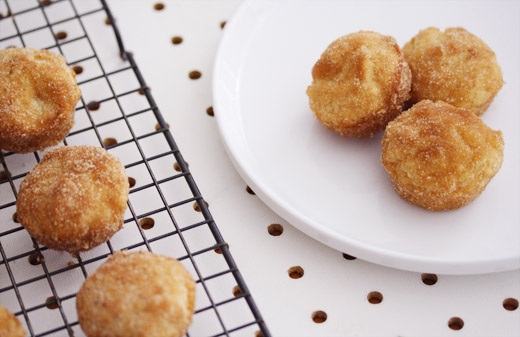 I have always been skeptical of those donut baking pans. If you want a donut, find something crisply fried on the outside, pharm tender and moist on the inside– just eat a donut. Although the donut shape they form is cute, site a baking pan, just seems like a poor, dietetic substitute. But these muffins, baked in a mini muffin pan, and rolled in sugar-cinnamon, have me rethinking my donut pan bias. Yes, they still look like a muffin, but they actually do taste like cake donut.
This is a recipe that I am playing around with for a baking course that I teach at the local community college. The course is for beginning bakers highlighting the basics of small batch baking. So I wanted a recipe that was quite straightforward, but delicious to boot.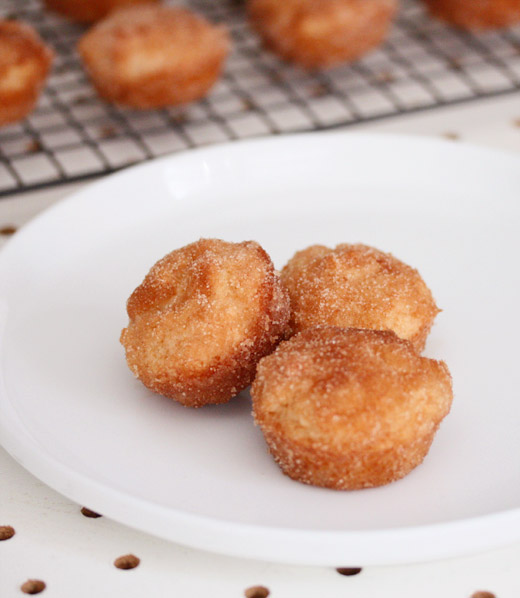 The recipe is made from pantry staples– sugar, flour, butter– and can be easily made on a Sunday morning, and on the table for brunch. Because the recipe is so basic, it also is left open for experimentation– something I'm trying to teach my students. Although the recipe call for all-purpose flour, some whole wheat could easily be substituted. Try a little lemon zest in the muffin batter, or some cardamon thrown in the cinnamon-sugar rolling mixture.
The muffins are light, and sweet. A similar texture to frying is created when the warm muffins are rolled in additional melted butter and sugar. These muffins can be made in a mini muffin tin– where they remind me of a donut hole waiting to be popped in my mouth, or they can easily be baked in a standard muffin tin. Either way, they're delicious enjoyed still warm from the oven, on a Sunday morning.
Donut Muffins
adapted from All Recipes
For the muffins:
2/3 cup (5 ounces) sugar
8 tablespoons (4 ounces) unsalted butter, melted
1/2 teaspoon ground nutmeg
1/2 teaspoon salt
1 cup milk
2 teaspoons baking powder
2 cups (10 ounces) all-purpose flour
For the topping:
1/2 cup (4 ounces) sugar
1 teaspoon cinnamon
4 tablespoons (2 ounces) unsalted butter, melted
Makes 20-24 mini muffins, 10-12 muffins
Preheat the oven to 375 degrees. Grease the muffin tin and set aside.
With a mixing spoon, mix the sugar, butter, nutmeg and salt together. Stir in milk, until well blended. Add the baking powder and flour, and mix until just combined. Fill the prepared muffin cups until half full.
Bake for approximately 15 minutes for mini muffins, 25 minutes for standard muffins.
While the muffins are baking prepare the donut topping. In a small bowl, mix the sugar and cinnamon. In a separate bowl, place the melted butter.
Remove the muffins from the pan. While they are still warm, gently dip each muffin into the butter, and then roll in the cinnamon-sugar mixture. Allow to cool on a rack. Muffins can be eaten while still warm.