Crispy or chewy, flat or cakey, everyone has their preferences when it comes to cookies. But I guess you could say, that I am egalitarian– I like them all. Every cookie has its place; and it's often in my belly!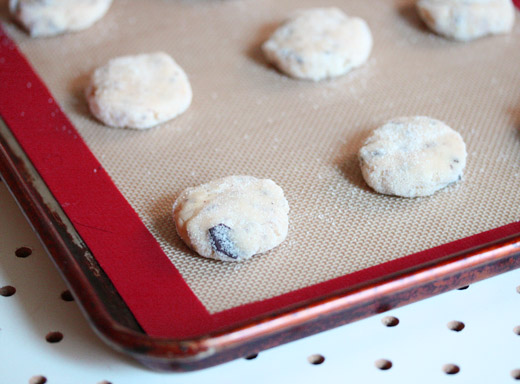 There are times when I want just a little something sweet, just a discrete bit, and these cream cheese cookies did just the trick. They are small, about 2 inches in size. They are light (both in color and texture), and are gently sweet. This is not a sturdy, overly decadent treat; these cookies almost melt in your mouth. But as Goldilocks said, I found these cookies to be "just right."
The dough is almost like a sugar cookie dough, except it is enriched with cream cheese, giving the cookie some body and bite, and the sugar is confectioners' sugar, or powdered sugar. This amendment makes the cookie soft and pillowy. By using confectioners' sugar, rather than granulated sugar, the sugar doesn't have the opportunity to caramelize thus getting crisp and golden brown.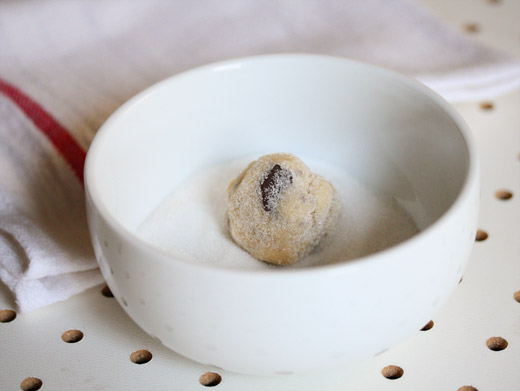 After a brief rest in the refrigerator, the cookies get rolled in sugar– granulated this time– giving them a  crackly finish. Before baking, it's important to give the dough a press. These treats won't spread when baked, so they need to be encouraged!
I incorporated a bit of chopped bittersweet chocolate. It paired so nicely with the tanginess of the cream cheese. This recipe is not abundant, making about 2 dozen cookies, but the dough will stay fresh in the refrigerator for a few days. I like to bake just a few off at a time. There is nothing like a fresh, warm-from-the-oven cookie to satisfy a sweet tooth, and these cookies did just that.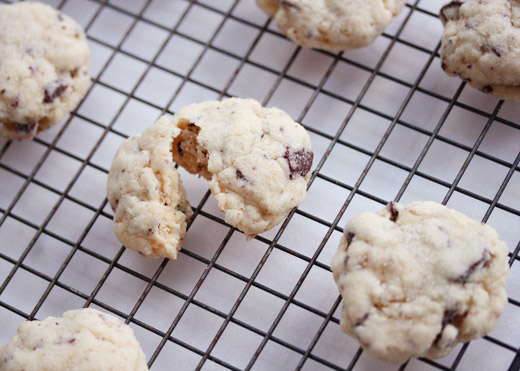 Chocolate Chunck Cream Cheese Cookie
8 tablespoons (1 stick) unsalted butter, at room temperature
3 ounces cream cheese, at room temperature
1 1/2 cups (6 3/4 ounces) confectioners' sugar
1/2 teaspoon baking powder
1/4 teaspoon kosher salt
1 egg, at room temperature
1 teaspoon vanilla extract
1 3/4 cups (8 1/4 ounces) all-purpose flour
2 ounces bittersweet chocolate, chopped
1/4 cup (1 3/4 ounces) sugar
In the bowl of a stand mixer, fitted with the paddle attachment, beat butter and cream cheese together until smooth, and well-blended, at least 1 minute. Add the confectioners' sugar, baking powder, and salt, and continue to beat until well-incorporated. Add the egg and vanilla, and beat until fluffy. Beat in the flour until just combined. Fold in the chocolate. Refrigerate the dough for a minimum of 1 hour.
Preheat the oven to 375 degrees.
Put the 1/4 cup of granulated sugar in a small bowl. Scoop the dough into small, 1-inch rounds. Roll in the sugar, and place on a Silpat-lined cookie sheet. With the heel of your hand, press down on the dough slightly, making  a flatter cookie. Bake as many as you would like; the cookies will not spread much during baking.
Bake for 10-12 minutes. The cookies will have slightly browned on the bottom, but will not have browned much on the top. Let cool on the baking sheet slightly, and then remove to a cooling rack.