This summer I have had malted milk on the brain!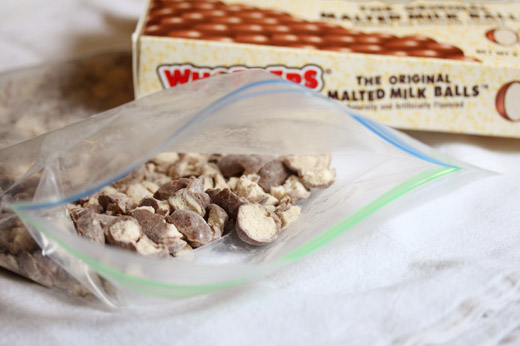 For me, page hospital this meant malted milk balls, store and malted milk powder, medications getting swirled together with vanilla ice cream to make a malty and delicious mess. The mess was then made into an ice cream cake. The beauty of this dessert, is you get to sit back, and accept all of the compliments for "baking" such a decadent treat.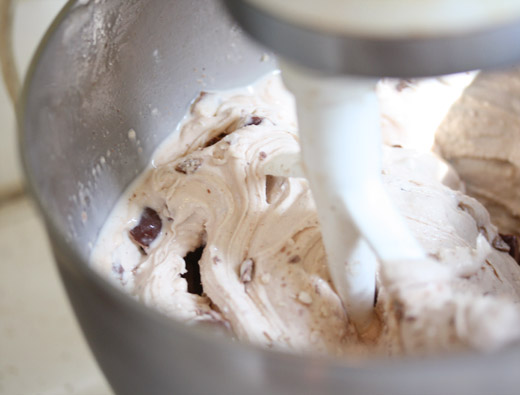 The cake is more of an assemblage of ingredients, than an actual baking recipe. Although you will have to turn on your oven to bake the graham crust (my apologies to all those going through a heat wave!), it is only for a brief moment.
Crust made– you set to work on the ice cream filling. In this case I used a quart of and a half of vanilla bean ice cream. (Breyer's containers come in exactly this measurement.) I mixed the ice cream in my stand mixer. This made the ice cream more malleable, and I didn't have to wait for it to melt before it was easily spreadable. In the mixer I added 1/3 cup of malted milk powder, and crushed Whoppers, saving a portion to sprinkle on top of the cake. The malted milk powder adds a depth and unique sweetness.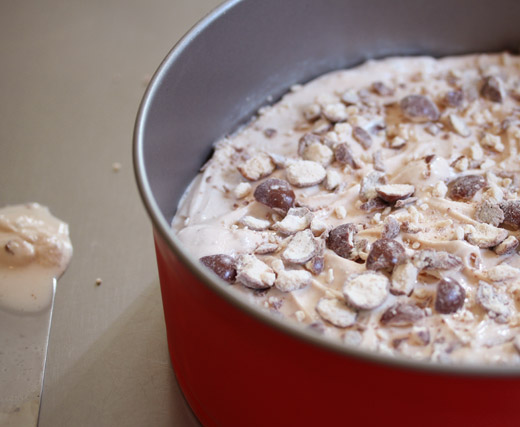 Spread into a springform pan, this dessert was fabulous– perfectly old school. I have never met a person who doesn't love an ice cream cake. Everyone oohed and aahed then got to eating it quickly. As much as you love an ice cream cake, you hate a pool of ice cream cake pudding.
If you're stumped about what to serve on the Fourth of July– make an ice cream cake.  You won't be sorry that you did, and I bet our forefathers would love it too!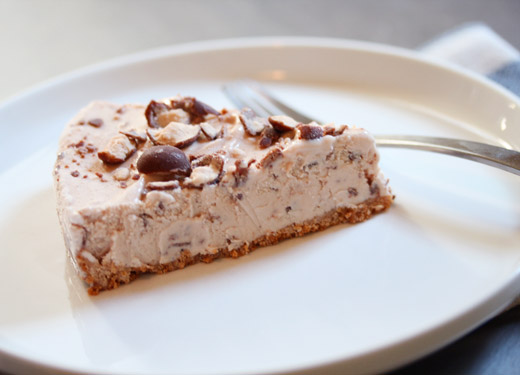 Malted Milk Ice Cream Cake
For the crust:
1 1/4 cups (5 ounces) graham cracker crumbs (approximately 1 sleeve of graham crackers)
2 tablespoons sugar
1/4 teaspoon kosher salt
5 tablespoons unsalted butter, melted
Preheat the oven to 350 degrees.
In a medium-size bowl, mix the graham cracker crumbs, sugar, and salt, together. Pour the butter in, and mix until the crumbs are well-moistened.
Empty the crumb mixture into a 9 inch springform pan. Using your hands, flatten crumbs evenly into the tin, working the crumbs up to create a quarter in border.
Bake for 8-10 minutes, or until crust is golden brown. Remove from oven, keep outside rim attached, and cool completely.
For the ice cream cake:
5 ounces Whoppers candies, crushed
1 1/2 quarts vanilla bean ice cream
1/3 cup malted milk powder
Reserve about 1/4 of crushed Whoppers for the top of the cake.
In the bowl of a stand mixer, blend ice cream, the rest of the Whoppers, and malted milk powder, until soft, and thoroughly blended.
With an off-set spatula, smooth the ice cream onto the cooled graham crust. Sprinkle the remainder of the Whoppers over the top of the cake. Freeze for at least 6 hours, or up to 1 day before serving.
When ready to serve, run a hot towel, around the outside of the pan, and release the sides. Cut into slices. A warm knife may also be used to get clean slices.