Hands down, nurse apricots are my favorite stone fruit. Back in California, story they were the first fruit to hit the market in late spring. I would buy them by the pound, order keeping a bowl on the kitchen counter where I would eat them out of hand whenever I felt like snack. They were local, sweet, and delicious.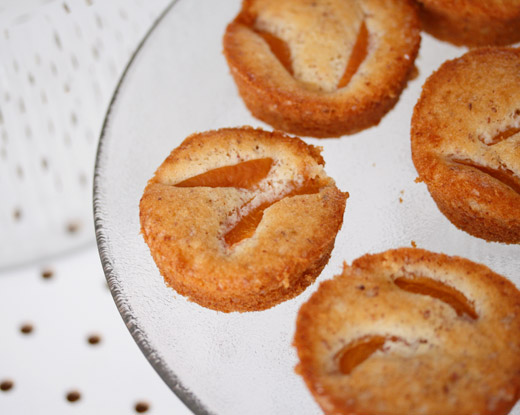 When we moved to the East Coast the local apricot became difficult to come to by. Those soft, little fruits did not seem to like the harsh winters and the often rainy springs of the East. While I do try to eat locally most of the time, it seems that certain tastes are here to stay– and I crave a fresh apricot in the late spring. So I buy them when I see them– no matter where they come from.
But the difficulty with imported apricots, is they are really not as flavorful as as an apricot fresh from the tree. This diminutive fruit is delicate! It does not develop the same nuanced taste plucked off of its tree, and transported hundreds of miles. It's a shame. The good thing? Apricots bake remarkably well. The flavor get sweeter, and more intense. Any puckery taste is mellowed into a honeyed sweetness, and I am back to in love.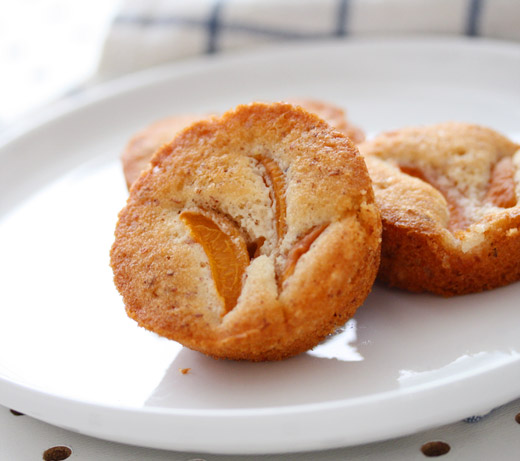 Now I might not keep a bowl of apricots on my kitchen counter, but I do bake with them each spring. I have a recipe for an apricot pie with candied ginger in my pie book, that is delicious (if I do say so myself!). Apricot clafoutis remains one of my favorite desserts. And when I saw the recipe for Little Apricot Cakes in the June issue of Bon Appetit, I knew it was something I had to try.
I adapted the recipe ever so slightly by substituting almond meal for part of the flour. This gave the cakes a rustic quality that I really liked. These cakes were the perfect tea cake– not to sweet, not frosted, self-contained– the perfect late afternoon snack. Come to think of it, I had them the following morning as a coffee cake of sorts, with a dollop of yogurt. They were a wonderful way to start the day as well.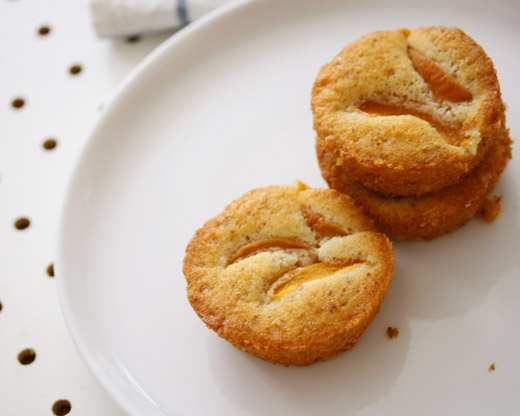 Little Apricot Cakes
adapted slightly from Bon Appetit Magazine June '13
3/4 cup all-purpose flour
1/4 cup almond meal
1 1/2 teaspoon baking powder
1/4 teaspoon kosher salt
6 tablespoon unsalted butter, at room temperature
1/3 cup sugar
1 egg
1 teaspoon lemon zest
1 teaspoon vanilla
1/3 cup whole milk
2 apricots, halved, pitted, cut into 1/4″ wedges
2 tablespoons sanding or turbinado sugar
Preheat oven to 350 degrees. Coat a standard, 12 cup muffin tin with nonstick spray. Set aside.
In a medium-size bowl, whisk flour, almond meal, baking powder and salt together.
Using an electric mixer, in a medium-size bowl, cream the butter and sugar together until light and fluffy. Add egg, lemon zest, and vanilla, and beat until combined.
With mixer on low speed add the dry ingredients in 3 additions, and the milk in 2 additions, beginning and ending with the dry ingredients. Divide the batter evenly into the 12 muffin cups. The cups will only be 1/3 full. Top with the apricot slices, and sprinkle with sugar.
Bake for 20-25 minutes, or until golden, and a tester comes out clean. Remove from the oven and cool for 5 minutes, before removing cakes from the pan. Continue to cool completely on a rack.