Something happened to the way that I cook when I moved to the East Coast. I waste very little. It's not that I was a spendthrift before– but I was guilty of throwing away sorry looking-vegetables in the bottom of the crisper, or leftovers that weren't appealing to me anymore– they just got discarded. I know, I know, I'm not proud of my wasteful past.
Now however, it's a different story. Maybe it's that I find food costs to be higher on the East rather than the West Coast, maybe it's just that I've matured, but I find myself not discarding a thing. Kale leaves are used in salad, while the stems are sauteed and served as a side dish. Tired looking fruit is simmered into compote and eaten with yogurt. And snack food– well that gets used too!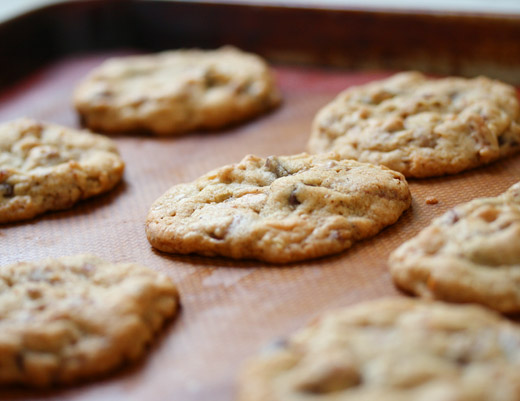 These Everything Cookies were inspired by a half-eaten bag of pretzels sticks. I am not the hugest pretzel fan, but had bought the bag to crush as breading for chicken cutlets. (Which is DELICIOUS, and should be made by those uninitiated!) So what do I make with the extra pretzels? Crush them too, and slip them into cookie batter.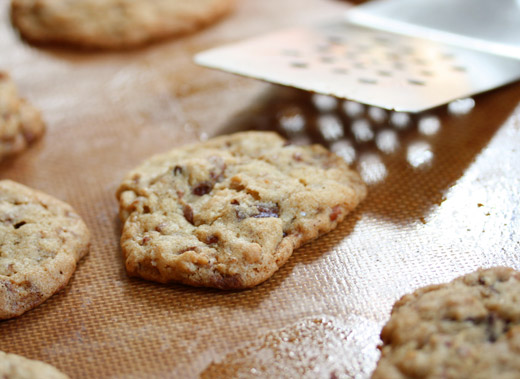 Now these cookies weren't simply pretzel cookies. They had crushed Whoppers– or malted milk balls– in them. Then there were dark chocolate chunks. (I had a few ounces in my baking pantry.) Finally, there was a little bit of ground espresso. These were not a coffee flavored cookies, but it rounded the ingredients out, and gave the cookies depth.
The cookies had that salty-sweet flavor from the pretzels, a chewiness from the melted and subsequent congealing of the malt balls, all while resembling a favorite chocolate chunk cookie. With all of those ingredients, these cookies seemed pretty everything to me. I may just have to buy pretzels for the purpose of making these cookies again!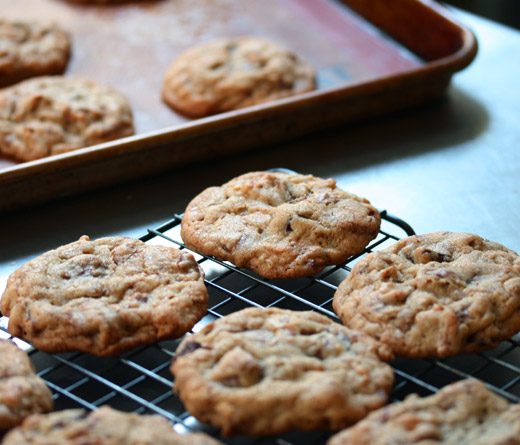 Everything Cookies

Makes 24 cookies
1/2 cup (4 ounces) unsalted butter, at room temperature
1/2 cup (3 ounces) light brown sugar, packed
1/3 cup (2 1/3 ounces) sugar
1 egg
1 teaspoon vanilla extract
1 1/4 cups (6 1/4 ounces) all-purpose flour
1/2 teaspoon baking soda
1/2 teaspoon kosher salt
1/2 cup (2 ounces) crushed pretzel sticks
2 packages (3 1/2 ounces) Whoppers, crushed
1/2 cup (3 ounces) dark chocolate chunks
1/2 teaspoon ground espresso
Preheat the oven to 350 degrees.
In the bowl of a stand mixer, fitted with the paddle attachment, cream the butter and both of the sugars, until light and fluffy, about 3 minutes. Beat in the egg and the vanilla until well-incorporated.
In another bowl, whisk the flour, baking soda, and salt together. Add the flour mixture, and beat on low speed until just combined. Using a spatula, fold in the pretzels, Whoppers, chocolate chunks, and espresso until well-combined.
Scoop the dough by heaping tablespoons onto a parchment-lined, or Silpat-lined baking sheet. The dough will fill two pans. Bake for 13-15 minutes, switching pans halfway through the baking process. Remove from the oven, allow to rest on the pan for 5 minutes, and then remove to a cooling rack.