This is what we had on New Year's day at my house: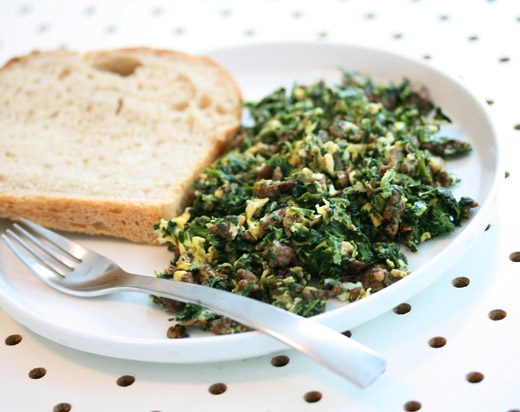 And it was perfect!
The holiday season is over, and as much as I heartily welcome it each year; I am always ready to bid it farewell in January. Having the holidays fall on a a Tuesday this year really messed with my head. I can only handle merriment once a week and it's usually on the weekend. Therefore, Monday felt like Saturday, and Tuesday was Sunday for sure! And Joe's special is the perfect food to eat on a lazy Sunday– which is why we had it on New Year's day. (Got that?)
Growing up in the San Francisco Bay Area I remember Original Joe's, I don't however remember Joe's Special. Maybe that's because when I was a kid, I didn't like eggs. Yup, I wouldn't eat them, especially scrambled, as they are in this dish. I am still quite particular about the egg. I much prefer them homemade than slung at me through a diner window, where they can often be too wet, and too chunky. But that's not what you get in Joe's Special, this is a dry, savory scramble.
I've grown up some. Now I understand the appeal of a scramble; they're nourishing and wholesome– simplicity as its finest. While this dish of frozen spinach, ground beef, and scrambled eggs is hardly haute cuisine, it is a piece of Americana. Joe's Special is easy, relatively quick, and delicious. The perfect dish to have for a Sunday supper, or a New Year's day meal.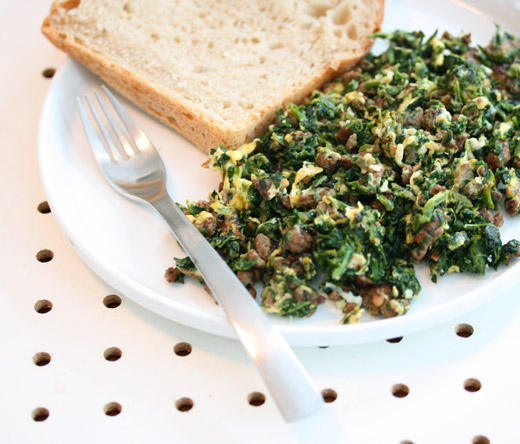 Joe's Special
adapted from Saveur magazine's 101 Classic Recipes
2 tablespoons olive oil
5 cloves garlic, minced
1 medium onion, finely chopped
8 ounces ground beef
1 10-ounce package frozen spinach, thawed and squeezed dry
8 eggs, lightly beaten with salt and pepper (truth be told, I used only 6 eggs)
1/4 cup grated Parmesan cheese
In a large, nonstick skillet, heat oil over medium-high heat. Add onion and garlic, season with salt and pepper, and cook until soft, about 5 minutes. Add ground beef, cook, breaking up into small pieces, until browned and all of the moisture has evaporated, about 5-10 minutes. Add spinach, and cook until heated through.
Add eggs, and cook, stirring constantly, until eggs are cooked, in small curds, and the mixture is mostly dry. Season with salt and pepper. Serve sprinkled with Parmesan cheese.