There is something about potato leek soup that is humbling. It's cold outside and you pour yourself a cup. You slurp it down while wearing fingerless gloves. Maybe you're in a barn. It is dusk. Dark clouds are rolling in. It is all very Dickensian.
Humor me.
That might be the potato leek soup that is composed of three ingredients– leeks, potatoes, and water.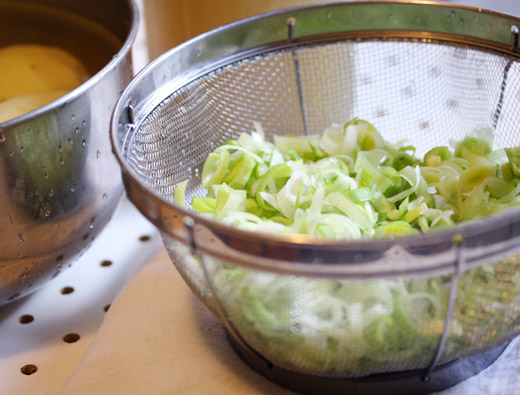 But this is the potato leek soup that is made on a Sunday afternoon, at the close of a full weekend. You may be miles away from a barn, but it is still humbling… and satisfying to boot. There  are more than three ingredients in this recipe, but not too many more. In fact, the soup comes together in under an hour, always a welcome direction when you're busy.
So let's get down to the "plus" business. Well, there's stock used instead of water. This adds another dimension of flavor. I also use a bit of bacon. Chopped into bits, and then rendered, I use the fat to saute the leeks. I also add about a tablespoon of Dijon mustard to the sauteed leeks. This adds a different dimension of heat– the kind that tickles the back of your throat. Then I add the potatoes. I use a waxy variety, like a sweet yet earthy Yukon Gold kind. I simmer this concoction until the potatoes fall apart, then I continue to puree the soup with an immersion blender. Finally, the piece de resistance, after turning off the heat, I add 1 cup of grated, sharp cheddar cheese.
The residual heat from the soup melts the cheese, which lends a salty, savoriness. The cheese doesn't get melty, and stringy–French Onion Soup-style– rather, the flavor of the cheddar is simply absorbed into the soup. Delicious, right?
I promise this soup is warm and homey, even if you live in a hi-rise apartment building, you have to cut the fingers off of a pair of gloves, and you haven't read any Dickens since sophomore year of high school!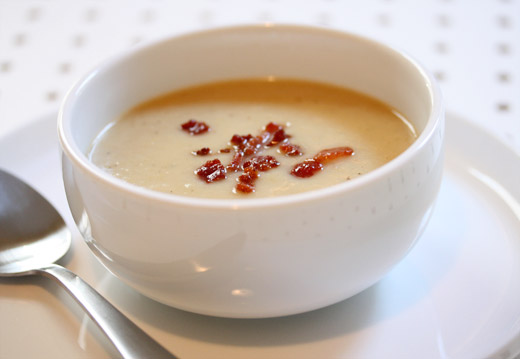 Potato Leek Soup Plus
Olive oil
2 slices bacon, chopped
1 tablespoon Dijon mustard
3 cups sliced leeks, white and light green parts only
2 pounds Yukon gold potatoes, peeled and chopped into large chunks
4 cups chicken or vegetable stock
1-2 cups water
1 cup grated white cheddar cheese
salt and pepper, to taste
In a dutch oven, over medium heat, heat a bit of olive oil. Add the chopped bacon, and fry, stirring frequently, until bacon is crisped and fat is rendered. Remove the bacon with a slotted spoon and drain on paper towel-lined plate. Leave the fat in the pot.
Add the leeks, and a bit of salt. Saute until wilted. Add in the mustard, mixing thoroughly. Add the potatoes, mixing well with the leeks. Pour in the stock and 1 cup of water, and bring to a boil. Reduce heat to a simmer, partially cover, and let cook for 30 minutes. After time has elapsed, potatoes should be tender, and falling apart.
Remove pot from heat, and puree with an immersion blender until smooth. If soup is too thick at this point, add another cup of water. Sprinkle in cheddar cheese, stirring well to blend completely. Season with salt and pepper, and serve sprinkled with bacon bits.
Any leftovers, can be stored in the fridge, and reheated, cheese and all, with no problem.