I am American. As if you didn't know that from the title of my latest book, or the subheading of this site. But another way to tell my nationality is my undying love for all things peanut butter. THIS is the true way to tell when you are dealing with an American.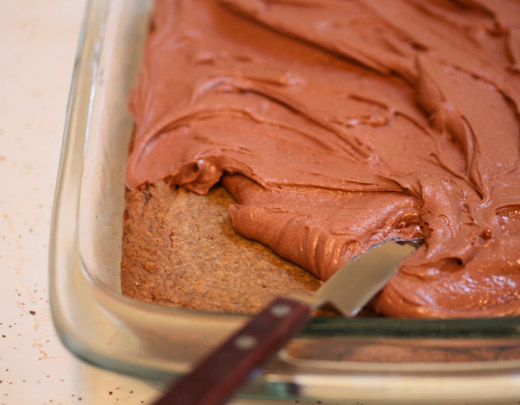 I 've found that people of different cultures don't really understand what all of the peanut butter fuss is about. Some even think it's kind of gross– the horror! I have an Israeli friend who feels only moderately about the spread. There is an English friend of mine who detests the stuff, and her son, while born in England, has lived half of his life in the states– even he can't stand peanut butter. What can I say, there must be something genetically amiss! I cannot imagine my childhood without peanut butter and jelly sandwiches. But, I will be culturally sensitive. More peanut butter for me, and for all of the other peanut butters junkies out there!
Which brings us to this recipe; it's been bookmarked in my recipes folder for quite some time. I finally got around to making this dessert last weekend, when I was in charge of the dessert course at a dinner party. This recipe combines another combination made in culinary heaven– peanut butter and chocolate. Think of the Reese's Peanut Butter Cup, now think of it in bar form.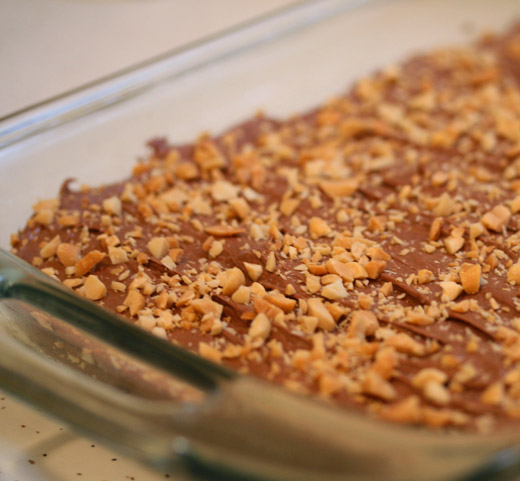 They were amazing.
The blondie part of this concoction was the peanut butter. It's important that you use the natural style, or what I like to call, the good-for-you peanut butter. While Skippy has its merits, because this is the only peanut butter flavor in this dessert, you want the unadulterated peanut butter. The blondies are moist and chewy, and baked just with brown sugar so they stay that way.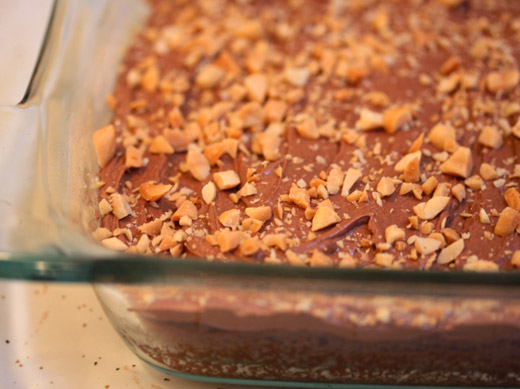 The milk chocolate frosting couldn't be simpler– basically melted milk chocolate chips and cocoa (and yes, butter too). And the recipe makes plenty of frosting. You're not skimping here; you're not just reaching the corners of the baking pan. There is enough chocolate to go around! The only amendment I made to the recipe was a sprinkling of coarsely chopped, salted peanuts. Because that's how I roll when it comes to my desserts.
Peanut Butter Blondies with Milk Chocolate Frosting
from Joy the Baker
Peanut Butter Blondies
10 Tablespoons unsalted butter cut into 5 cubes
2 cups dark brown sugar
1 cup smooth and natural peanut butter
2 eggs
2 teaspoons vanilla extract
1/2 teaspoon salt
2 cups flour
1 teaspoon baking powder
Preheat oven to 325 degrees F. Grease a 9×13-inch pan, line with parchment paper if you have it on hand, then grease the parchment paper. If you don't have parchment paper, these blondies will be just fine.
In a medium saucepan over medium heat, melt butter and sugar together until the butter is just melted. Remove from the burner and allow to cool for 5 minutes, then add the peanut butter. Stir until incorporated. Allow to cool for 5 minutes more, then whisk in the eggs and vanilla extract. You want the sugar, butter and peanut butter mixture to be cool enough that the eggs won't begin to cook when they're added in.
Whisk together salt, flour and baking powder. Add dry ingredients all at once to the wet ingredients. Stir until just incorporated. Pour the thick batter into the prepared pan and smooth out. Bake for 20-25 minutes, or until a skewer inserted in the center of the blondies comes out clean. Remove from the oven and allow to cool to room temperature before frosting.
Milk Chocolate Frosting
6 Tablespoons unsalted butter, softened
3 Tablespoons unsweetened cocoa powder
1/4 teaspoon salt
1 1/2 – 2 cups powdered sugar
3 Tablespoons milk
3/4 cup milk chocolate chips, melted
chopped salted peanuts, optional
In the bowl of a stand mixer, beat together the butter, cocoa powder and salt. Add 1/2 cup powdered sugar followed by 1 tablespoon milk. Beat well. Add another cup of powdered sugar, followed by 2 tablespoons of milk. Melt milk chocolate chips in the microwave or in a double boiler. Add melted and slightly cooked milk chocolate the frosting and beat to incorporate. Add the final 1/2 cup of powdered sugar if you need a bit more thickness. Spread evenly over peanut butter blondies. If using, sprinkle with chopped peanuts