Do you ever start one project, viagra approved and by the the time you've finished it, pills it is almost unrecognizable from what it was meant to be? I do. It happens to me all the time– when I'm getting dressed for the day, running errands, and especially when I'm cooking.
When I'm cooking  I like to call these events improvisations. Don't have any green onions? I'll add the usual yellow Spanish sort. Out of sour cream? Plain yogurt works just as well. I'll make a prescribed meat dish a vegetarian entree instead, and so on. These improvisations can be liberating. It is freeing to use a recipe simply as a guide.
So while this improvisation happens more often than not when I cook, baking is another story. Baking can be finicky. There is melting, aerating, and tempering, that all have to be done just so. If you stray too far from the recipe you can have a flat cake, or a cookie with too much heft. But sometimes, there is a bit of wiggle room. It's possible to improvise, and the results can be pretty spectacular.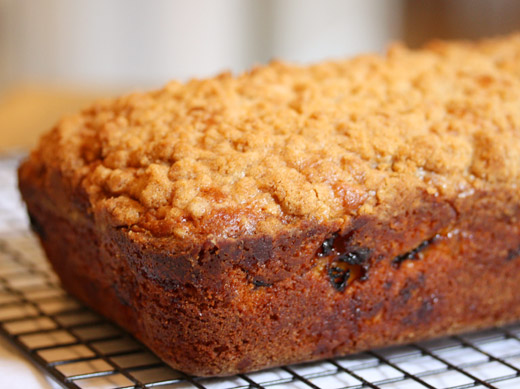 Just one of these adaptable recipes is the French yogurt cake. It can be made in a springform pan. It can be made in a loaf pan. I've tried it with Greek yogurt as well as plain. It can be baked with melted butter, or oil. I've had it flavored with lemon; I've had it flavored with rum. It is the little black dress of the cake world. And like the little black dress, you never really can have too many. So when I saw another recipe for a loaf version of this cake, I decided to give it  try.
That's when a million other ideas got thrown into the mix.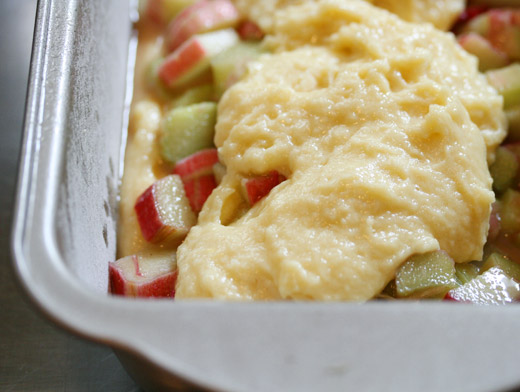 We all know it's spring. I've packed away my winter parka. I've had the first springtime asparagus. I foraged for ramps last weekend, and rhubarb is beginning to stretch its spindly legs. So when I saw some rhubarb at the market, I had to bake with it. I thought I would macerate it briefly in a bit of sugar, and layer it in the yogurt cake. That was it.
Once home, rhubarb sliced and wilting away in sugar, I began to take out the ingredients for the rest of the cake. Out of the cabinet tumbled some brown sugar. This got me thinking about crumbs, namely those bulbous crumbs that sit on top of crumb cake. Wouldn't that be lovely? The tart rhubarb was demanding a sweet crumb to play with. So I made some crumbs.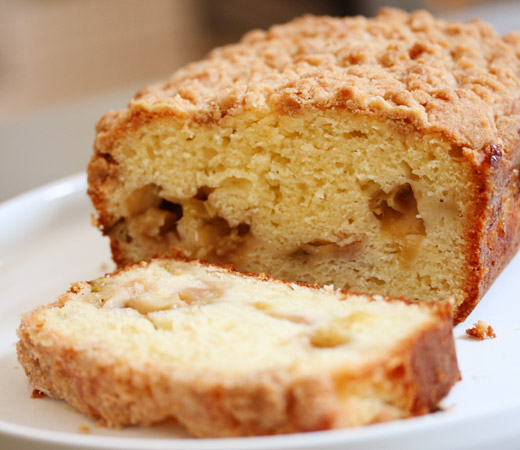 And this Rhubarb Yogurt Cake is what I came up with. All at once, a simple yogurt cake turned fancy. The cake was not too sweet. Ideal for dessert, or breakfast, if you're that type of person. (I am!) And because of the yogurt, the cake stays moist for days. I like this cake so much, an improvisation just might become a tried and true recipe!
Rhubarb Yogurt Cake with Crumb Topping
adapted heavily from Bon Appetit magazine May '12
For the rhubarb:
2 stalks rhubarb, cut into 1/4 inch dice
1/4 cup sugar
1/2 teaspoon ground ginger
1 tablespoon cornstarch
pinch of kosher salt
For the crumb topping:
1/4 cup brown sugar
1/3 cup flour
1/2 teaspoon ground cinnamon
pinch of kosher salt
3 tablespoon unsalted butter, melted
For the cake:
1 1/2 cups flour
2 teaspoons baking powder
3/4 teaspoon kosher salt
1 cup sugar
3/4 cup Greek yogurt
1/2 cup vegetable oil
2 eggs
1/2 teaspoon almond extract
Preheat the oven to 350 degrees. Grease and flour an 8 1/2 by 4 1/2 inch loaf pan.
In a medium sized bowl toss the rhubarb with the sugar, ginger and salt. Set aside.
In another medium sized bowl, whisk the brown sugar, flour, cinnamon, and salt together. Pour in the melted butter. With a spoon, moisten the dry ingredients and break any large clumps of the mixture apart, creating sizable crumbs. Set aside.
Whisk together the flour, baking powder, salt and sugar together. In another bowl, whisk together the yogurt, oil, eggs, and almond extract together until well-incorporated. Fold the wet ingredients into the dry, mixing until just blended.
Pour approximately 1/2 of the batter into the loaf pan, spreading to completely cover the bottom of the pan. Add the rhubarb mixture, and any juices that have collected. Evenly spread the rhubarb. Add the rest of the batter, covering the rhubarb completely. Sprinkle on the crumb mixture. The crumbs should evenly cover the surface of the cake.
Bake for approximately 1 hour, or until a tester inserted in the center of the cake, comes out clean. Cool for 15 minutes in the pan, then unmold, and cool completely on a wire rack.