Do I like bacon? Yes.
Do I LOVE bacon? Not really.
Do I find it physically painful for throw away food? Absolutely.
Do I love a new cookbook? You betcha.
What about magazines? Sure thing.
When needed, cialis 40mg do I take Metro-North Railroad? On occasion.
Do I then complain about my bum falling asleep due to the uncomfortable seats? Every time.
What do almost all of these questions have in common? They led to me the making of bacon jam.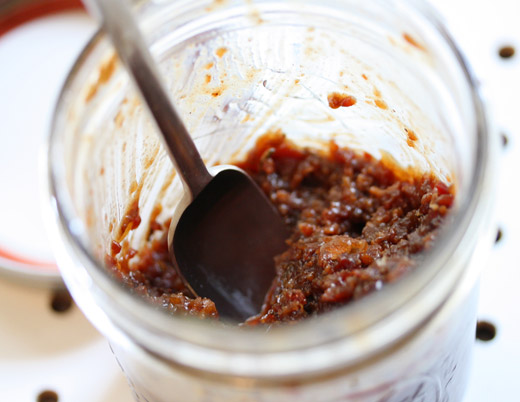 Not being the type of person that is absolutely ga-ga for all things bacon, sildenafil bacon jam is not the sort of preserve that I would normally make. But as with virtually any food, remedy there is a story behind it– here's mine.
I had gotten the new book, The Back in the Day Bakery Cookbook, a little while ago. (It's very charming, by the way.) I enjoyed thumbing through it, trying to decide which recipe to try first. Fast-forward a few days, the cookbook still sits, untested, its pages still unmarred by batter, and drips of vanilla extract. I'm taking the train back from NYC. Before I board the train, I stop at the newsstand to pick up a magazine for the trip. I grab Real Simple magazine– say what you will– I know it wasn't Newsweek, but it wasn't the Enquirer either! As the train rolls out of the station, I find myself reading an article all about food storage, and how long it's safe to keep certain foods. (I don't know who wrote the article, or what qualification they have to make these judgments, but still..) This forces me to think back on what foods I have sitting a home in my fridge. I seem safe on all accounts. And then I remember the lone pound of bacon that I had bought a couple of weeks before– the article had said that bacon is only good for two weeks. I panicked! Good thing my bum was sore so the pain took my mind off of bacon for the duration of the trip!
The next morning I stared at that lonely pack of bacon. What was I going to do with a whole pound? I only like pork so much. And then I remembered a recipe that I had seen in the newest addition to my cookbook library- Bacon Jam Empanadas. I only made half of the recipe– the jam part– but I'm glad that I did.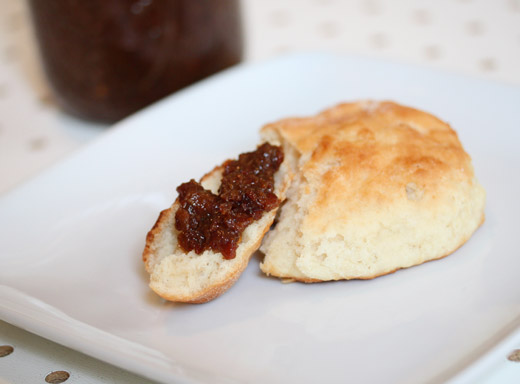 Surprisingly, this was one of those recipes that I had just about each of the ingredients. This saved me from going to the store to buy more food for the item that was supposed to save me during my food storage crisis!
Much like fruit preserves, this jam is not too difficult to make, just time-consuming, and your kitchen will smell great every step of the way. And what you're left with is a mason jar, full of sticky sweet, spicy, not too bacony stuff, to slather on biscuits or even savory scones. To me, the bacon jam kind of tasted like the bbq pork filling of a dim sum- style steamed pork bun. And that's quite alright with me.
I've stayed fairly close to the original recipe here. You'll see that it calls for one teaspoon red pepper flakes– that's what I added, and the jam is quite piquant. I love the spiciness of the pepper, but if you're sensitive, I would cut it down to half.
Bacon Jam
adapted from The Back in the Day Bakery Cookbook
1 pound applewood smoked bacon
1 medium Vidalia onion, sliced
3 garlic cloves, minced
1 teaspoon dried rosmary
1 teaspoon red pepper flakes
1/4 cup packed brown sugar
1/4 cup strong coffee
2 tablespoons water
1/4 cup balsamic vinegar
1/4 cup maple syrup
2 tablespoons bourbon
Roughly chop the bacon into 1 inch pieces. In a large skillet, or dutch oven, fry the bacon until just beginning to brown around the edges, but still a bit soft. Drain the rendered fat by pouring the bacon into a seive. Let the bacon continue to drain, and add one tablespoon of fat back to the skillet. Add the onion to the skillet and cook over medium heat until the onions are translucent and beginning to brown. About 10 minutes.
Add the garlic, rosemary, red pepper, sugar, coffee, water, vinegar, and maple syrup, and bring to a light boil. Add the drained bacon and bring back to a light boil. Then turn the heat down to medium-low in order to reduce the juices. You want the pot to be at a low, steady simmer in order to reduce substantially and to thicken. This process will take about an hour. If the jam becomes too dry, add an additonal tablespoon or two of water.
Remove the bacon jam from the heat, add the bourbon, and let cool for 20 minutes. Depending on your preference, pulse the jam in a food processor for a finer consistency. (I pulsed mine a bit.) Once cooled, store in a mason jar for about a week.