…For more than a day, maybe that is when my tomatoes will turn from lime green to a sumptuous red. With the new apartment came a little plot of land, not quite a garden, but this is our attempt. Brian and I planted tomatoes, five plants to be exact. They range in variety from Cherokee Purple, to tiny Grape, and the aptly named, Early Girl, which were the first to fruit.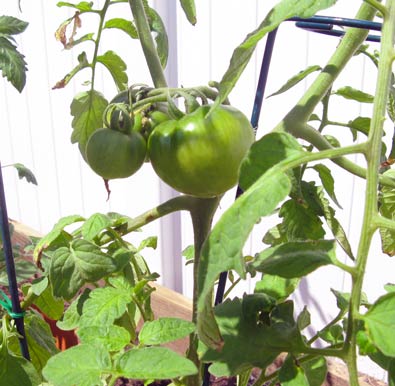 This fruit came weeks ago, and at first I was patient. (No easy task if you are me.) The blossoms withered and died, and little fetal tomatoes grew in their place, and they continued to grow. At first I was happy for all of rain, it meant little watering had to be done. But then it rained, and it rained some more, and if you weren't wet enough– here, have some rain. The soil became saturated, and my darling Early Girls remained staunchly green.
We had our first dry weekend here in Connecticut in weeks. I'm hoping that it did my tomato plants some good. I begged them each day to soak up the rays all that they could– drink in the sun! I'm ready, getting more ready every day to eat you, I told my plants. When I planted these tomatoes I imagined having a bumper crop, tomatoes coming out my ears, but now we'll see. If you would like, think sunny thoughts about these beauties. And to anyone who is an avid gardener out there, I have one plant that has yellowing leaves, what does this mean, and how do I get rid of it? Suggestions are always welcome!