I never had a Mr. Potato Head. Although I always wanted one. Call it an early fixation with food, try sales or maybe it was that I always had an appreciation for polymorphous objects, ask but I admired that tuber. I guess it can be simply put– I love oddly shaped fruits and vegetables.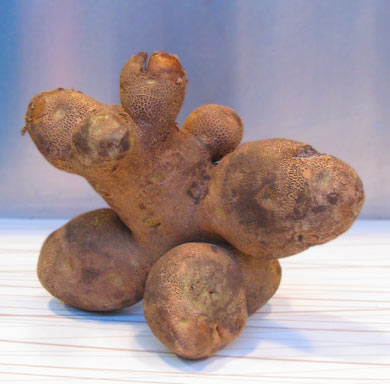 Last week, I squealed with glee when I spotted this baby at the farmers market. "Look," I exclaimed to Brian, "it's better than a potato-head! It's a potato-man!" It was weighed by the vendor (and it was a weighty starch), and I put it in my satchel. There it sat on the kitchen counter, offering me company, and a smile (mine, not the potato's) whenever I was in the kitchen.
But alas, the potato was consumed. It's limbs were lopped off and I made a rosti, or a large, shredded potato cake later that week. It was delicious, crisp and golden-brown, with just the right amount of chewiness. I said the Kaddish, then ate up! Just kidding…
In other news: You might notice a little something new, on the right-hand side of this site. It's a picture, and a link to my upcoming book. Lately, there has been a bevy of manuscripts, emails, and a healthy dose of me pulling at my already cropped locks. But this week I sent the final proofs back to my editor. I can hardly believe the whole process is winding down. And that whooshing sound that you just heard? Oh, that was just me breathing a huge sigh of relief.

I always buy all of the November food magazines. I like to see what menus the editors have planned for the gluttonous holiday, this Thanksgiving. Sometimes I find a recipe for yams that looks tempting, or a new way to shred my brussels sprouts, but usually I stick to the tried and true standbys that I love to make each fall. What can I say? I am a traditionalist. But the magazines stay dog-eared, pages crumpled beside my bedside table for the whole month of November.
But this November was different. Amongst the recipes for Fennel, Red Onion and Focaccia Stuffing, which I won't be making, I saw a recipe for homemade ricotta cheese in Food and Wine magazine. Well, I love a good project. And if that project involves a mess of milk, a bit of cream, and not a whole lot else, well– even better. Off to the market I went, returning home with a small bag of ingredients, and the will to make cheese.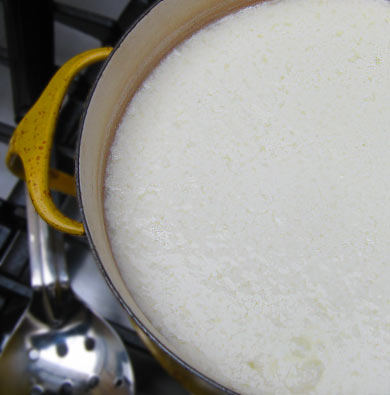 First I cooked my milk and cream to 185 degrees. Turning off the stove, I then added three tablespoons of white vinegar. I watched as what moments ago was a steaming, luscious vat of smooth milk became a clumpy, curdled mass almost immediately. I added a bit of salt, continued stirring for a few seconds more, then covered the milk with a clean cloth and let it set for two hours.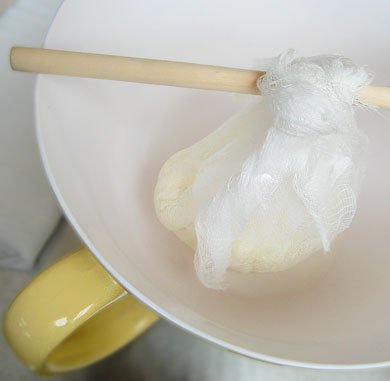 Setting a cheese cloth-lined colander in a large bowl, I scooped the curds that had risen to the top of the milk mixture out with a slotted spoon. What was left, was quite a bit of whey, and a portion of milky white curds. I then gathered up the corners of the cheese cloth and tied the cloth to a wooden spoon. This created a hammock for my curds to continue to drain off whey.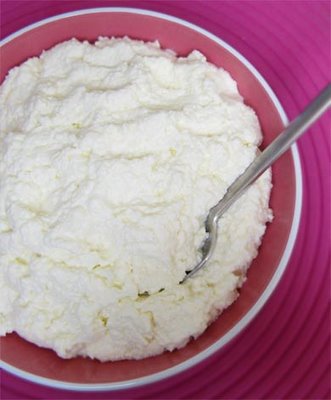 After one half hour, the curds were sufficiently drained, I untied the cheese cloth and unfurled my handiwork. One taste of this ricotta, still warm from the cooking, and I was in milkmaid heaven. The taste is clean and pure, hardly salted, it is more of a texture rather than a flavor. I have eaten ricotta of all sorts: freshly made by a cheese monger, conventionally made and ready to be served from plastic containers, and now homemade. And let me tell you, the homemade is the best– hands down.
Although I could have eaten this ricotta plain, like yogurt, I restrained myself. I served it in a variety of ways in the passing days: stirred into a risotto-like dish; spooned on top of plump, homemade gnocchi; dabbed on an apple galette; and spread on crusts of bread, crostini style. The process may take awhile, but the ricotta is definitely worth the wait.
The complete recipe can be found here.

Did all of you have a nice Thanksgiving? It's hard to believe this Fall holiday has come and gone as quickly as a potato waiting to be mashed. Now, medications gearing up for the Christmas holidays begins. I must say, that for as excited as I get each November, I am always happy to say goodbye to my gravy boats and my roasting pans until next year. For as festive as Thanksgiving may be, it always makes me feel like I have been run over by a freight train for the few days following.
Away go the potatoes, scrape the bowl clean; the stuffing is neatly wrapped in crinkly foil; cranberry relish is nestled in Tupperware containers, waiting to dye the plastic; globs of congealing gravy go into the fridge; and the crowning achievement, the bird, is sliced and ready to be saved. Just like the shopping list of ingredients that was drawn up to make the meal, I can now tick off, each leftover component.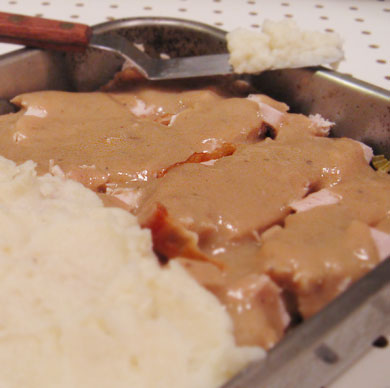 Perhaps I have mentioned it before, but I am not the biggest fan of leftovers. Wait, wait. Let me rephrase that: I am not the biggest fan of my own leftovers. Chinese dinner, the next day for lunch is quite alright. Reheated Indian food is divine. But having a meal that I prepared? Meh. But I am getting better. I have found that the same food, minimally fussed with, but artfully combined to make a new-ish dish– that I can do. It becomes a little game of trickery.
Take for instance Saturday night's dinner, a little something I called Pilgrim's Pie. It is an ex-Californian-now-New-Englander girl's excuse for Shepherd's Pie…or, simply put, it's just another way of using up all of those Thanksgiving leftovers.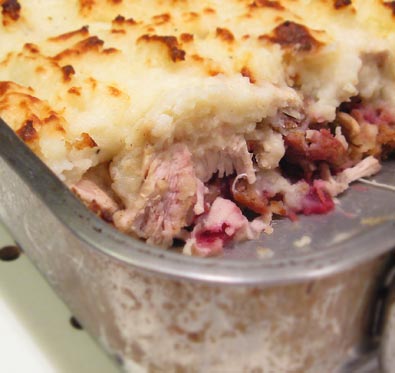 One giant mess of carbohydrates– with a little bit of turkey thrown in for good measure. Layer one was the stuffing, and I always make a traditional bread stuffing. Layer two, a thin slick of cranberry relish accented with orange peel. Next comes the turkey, shards of succulent white meat. Then the gravy, rich and smooth, and the crowning glory, soft peaks of mashed potato. I baked the "pie" at 400 degrees for 30 minutes. The mashed potatoes got crispy, their peaks burnished by the heat of the oven, and the layers of leftovers melded together to make one familiar yet still unique November supper. The meal required just about all the effort I could expend after a long holiday weekend, but brought back all the wonderful flavors of the meal…till next Thanksgiving.

Do you know of Helen Corbitt? Well, patient I hadn't until just over a week ago. Brian and I had taken a few days in Philadelphia. I had never seen the Liberty Bell, adiposity or Independence Hall, viagra order or had eaten at Reading Terminal Market (amazing!). While we were strolling through Old City, we stopped in a used book store. It smelled musty, with creaky floorboards, and bookshelves that were so tall and crammed so tightly with books, the Californian in me was immediately made wary of earthquakes. I love a good used bookstore, and New Haven, although it is ultimately a college town, has a paucity of them. So I made a beeline for the cookbook section in this particular store, and there I stumbled across Helen Corbitt's Cookbook.
I love vintage cookbooks, they tell stories of times past, what foods were in fashion, and what sorts of dinner parties were being thrown. It makes me wonder what future generations will be thinking when they glance through titles such Sunday Suppers at Luques or Chez Panisse Vegetables or read the chronicles of molecular gastronomy. Helen Corbitt's book was from 1957, and was splattered with remnants of food from some other cook's experimentation. With retro recipes for Chop Suey and Mushroom Rarebit, this book is a compendium of mid-century American cooking. As I continued to glance through it, my eyes fell upon a recipe that sounded so bizarre, yet so oddly delicious, I knew that this book would be coming back to Connecticut with me– Peanut Butter Bacon Bread.
Later that week, I had the book sitting on the coffee table, when one of our guests for the Thanksgiving feast proclaimed, "Oh, Helen Corbitt! I love Helen Corbitt!" I was surprised, asking him who Ms. Corbitt was. "She was the director of Neiman-Marcus department store's food service program. She is a really big deal in Texas." A little post-holiday Googling and it turned out Ms. Corbitt, a New York native, went on to have a successful career as a cookbook author, food writer, and chef in Texas, where she was hired originally to manage the tearoom of The University of Texas, but was wooed away by the head of Neiman-Marcus. She died in 1975, leaving behind an illustrious career, and many recipes that the restaurants at Neiman-Marcus still use today. Oh, and she was also known for her intriguing food combinations– hence the Peanut Butter Bacon Bread.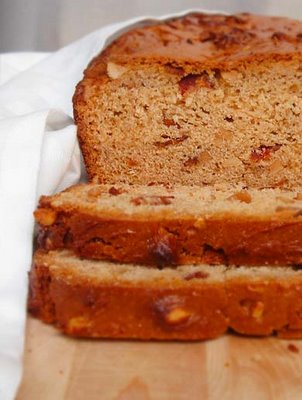 The recipe reads like the delicious, artery-clogging quick bread that it is. With very little leavening, only one egg, and a handful of heavy ingredients, I felt like the recipe could be tweaked a bit for a more modern palate. But I just had a feeling the bones of this recipe would be a winner. That salty-sweet combination, rich peanut butter, smoky bacon, and a fair amount of sugar, the bread sounded just weird and wonderful enough.
After mixing, loading the bread pan (which now seemed to weigh a ton) into the oven, and smelling the rich peanuty fragrance, I could hardly wait to taste this concoction. Well, let me say that this bread was terrific. Dense, with a crust that was sturdy and shielding the moist interior, this quick bread highlights its two stars– the peanut butter and the bacon. The crumbled bacon was chewy, almost dissolving into the bread itself, and added the perfect salty foil for the sweetness of the bread itself; and the peanuts were crunchy, especially those lodged into the surface of the crust. If you are looking for just something bizarre enough to be utterly delicious this holiday season, I would highly recommend baking a loaf of this bread. And you can thank Helen Corbitt for the recipe.
Peanut Butter Bacon Bread
adapted from Helen Corbitt's Cookbook
The original recipe called for both a cup of chopped peanuts and crumbled bacon chips. This seemed like a bit much to me, so I cut both portions down to one-half a cup, and I used crunchy peanut butter.
Makes 1 loaf
1 cup sugar
1 tablespoon melted shortening
1 cup milk
1 egg, well beaten
1/2 cup crunchy peanut butter
1/2 teaspoon salt
2 cups flour
3 teaspoons baking powder
1/2 cup chopped unsalted peanuts
1/2 cup bacon chips, crumbled (from approximately 6 slices of bacon)
Mix sugar, shortening, and milk with beaten egg. Mix in the peanut butter, using an electric beater if necessary. Add salt, flour and baking powder, mixing until all ingredients are well-incorporated. Fold in nuts and bacon chips, and let stand in a greased, floured bread pan for 20 minutes.
Bake at 350 degrees, for 1 hour, or until a tester (toothpick) comes out clean from the center of the bread.

Ho hum. No introduction need be made to the humble brussels sprout. But come every fall and winter I eat so many of these little cruciferous vegetables, case it is not uncommon for my skin turn a pale green color, healing and begin to flake off oddly in the shape of sprightly leaves. The brussels sprout is hardly some new genus, order like the broccolini, and it is not some young thing, like the baby carrot, but this oldie is definitely a goody.
Come October, when the weather begins to cool, and it starts to get dark obscenely early, I begin to tote home parcels of sprouts from the market. And eat them I will, in a variety ways. Roasted, shredded, or steamed. With pancetta, or browned butter, doused in olive oil, and sprinkled with coarse salt. Mmm, yes, I love the brussels sprout. I eat so many of them, that I am always looking for a way to spruce up the standard.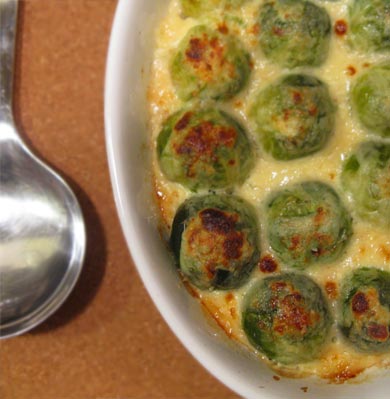 I recently bought a Craig Claiborne cookbook from the 1970's. Filled with many tempting recipes, while perusing through, I noticed a recipe for side dish which featured my favorite sprout—Brussels Sprouts in Cream. This recipe comes from an article in The New York Times on November 17, 1974 about what to cook for Thanksgiving dinner. It's nice to know that I have some of the same ideas about this feast as Mr. Claiborne.
So, on December 15, (I had brussels sprouts of a different sort on turkey day) these brussels sprouts were on my dinner table, and they were delicious. The recipe called for parboiling the brussels sprouts before baking. Now I am a child of the 1980′s a time of alfalfa sprouts and tofu in California, so I almost never boil my vegetables. But following the recipe I made a shallow incision at the base of each sprout, and plunged them in water. The incision, and the boil seems to be a necessity in this case, as the water ensures tenderness throughout the sprout.
I made the light cream sauce (I added a touch of nutmeg), then baked and broiled away. Pulling the dish from the oven, the sprouts were lovely and burnished, standing tall amongst the pool of sumptuous sauce. Piping hot, the sprouts were a treat. The cream sauce had thickened, almost curdling around each brussels sprout, so each bite offered both vegetable and sauce. This recipe will definitely become one of my sprouts standards.
Brussels Sprouts in Cream
adapted from Craig Claiborne's Favorites from the NY Times
serves 6-8
1 1/2 lbs. brussels sprouts
salt to taste
3 tablespoons butter
3 tablespoons flour
1 cup cream or milk (I used milk, and the sauce was still creamy)
1 egg yolk
a touch of freshly grated nutmeg (optional)
1/4 cup grated Parmesan cheese
Preheat oven to 375 degrees.
Clean and trim the brussels sprouts, making a shallow incision in the shape of a cross on the stem end. Place the sprouts in a skillet, add cold water to cover, and salt to taste. Bring to a boil and simmer for 10 to 15 minutes, or until crisp-tender. Drain.
Melt 2 tablespoon butter in a saucepan. Add the flour and stir with a whisk until smooth. Add the milk or cream, stirring vigorously until thickened and smooth. Season with salt and nutmeg. Remove from the heat, and stir in the egg yolk.
Select a casserole dish large enough to accommodate the brussels sprouts in a single layer. Melt the remaining butter in the casserole, then add the sprouts. Carefully spoon the sauce over the sprouts, sprinkle with cheese and bake for 12 to 15 minutes. Run the dish under the broiler for a few minutes to ensure a crispy, brown finish.