Ho hum. No introduction need be made to the humble brussels sprout. But come every fall and winter I eat so many of these little cruciferous vegetables, it is not uncommon for my skin turn a pale green color, and begin to flake off oddly in the shape of sprightly leaves. The brussels sprout is hardly some new genus, like the broccolini, and it is not some young thing, like the baby carrot, but this oldie is definitely a goody.
Come October, when the weather begins to cool, and it starts to get dark obscenely early, I begin to tote home parcels of sprouts from the market. And eat them I will, in a variety ways. Roasted, shredded, or steamed. With pancetta, or browned butter, doused in olive oil, and sprinkled with coarse salt. Mmm, yes, I love the brussels sprout. I eat so many of them, that I am always looking for a way to spruce up the standard.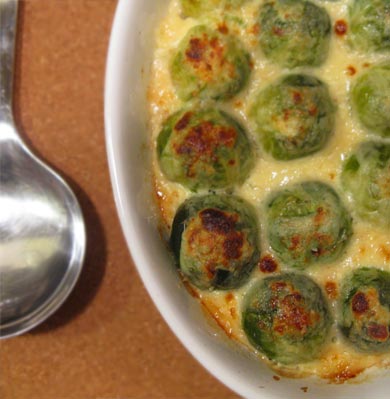 I recently bought a Craig Claiborne cookbook from the 1970's. Filled with many tempting recipes, while perusing through, I noticed a recipe for side dish which featured my favorite sprout—Brussels Sprouts in Cream. This recipe comes from an article in The New York Times on November 17, 1974 about what to cook for Thanksgiving dinner. It's nice to know that I have some of the same ideas about this feast as Mr. Claiborne.
So, on December 15, (I had brussels sprouts of a different sort on turkey day) these brussels sprouts were on my dinner table, and they were delicious. The recipe called for parboiling the brussels sprouts before baking. Now I am a child of the 1980′s a time of alfalfa sprouts and tofu in California, so I almost never boil my vegetables. But following the recipe I made a shallow incision at the base of each sprout, and plunged them in water. The incision, and the boil seems to be a necessity in this case, as the water ensures tenderness throughout the sprout.
I made the light cream sauce (I added a touch of nutmeg), then baked and broiled away. Pulling the dish from the oven, the sprouts were lovely and burnished, standing tall amongst the pool of sumptuous sauce. Piping hot, the sprouts were a treat. The cream sauce had thickened, almost curdling around each brussels sprout, so each bite offered both vegetable and sauce. This recipe will definitely become one of my sprouts standards.
Brussels Sprouts in Cream
adapted from Craig Claiborne's Favorites from the NY Times
serves 6-8
1 1/2 lbs. brussels sprouts
salt to taste
3 tablespoons butter
3 tablespoons flour
1 cup cream or milk (I used milk, and the sauce was still creamy)
1 egg yolk
a touch of freshly grated nutmeg (optional)
1/4 cup grated Parmesan cheese
Preheat oven to 375 degrees.
Clean and trim the brussels sprouts, making a shallow incision in the shape of a cross on the stem end. Place the sprouts in a skillet, add cold water to cover, and salt to taste. Bring to a boil and simmer for 10 to 15 minutes, or until crisp-tender. Drain.
Melt 2 tablespoon butter in a saucepan. Add the flour and stir with a whisk until smooth. Add the milk or cream, stirring vigorously until thickened and smooth. Season with salt and nutmeg. Remove from the heat, and stir in the egg yolk.
Select a casserole dish large enough to accommodate the brussels sprouts in a single layer. Melt the remaining butter in the casserole, then add the sprouts. Carefully spoon the sauce over the sprouts, sprinkle with cheese and bake for 12 to 15 minutes. Run the dish under the broiler for a few minutes to ensure a crispy, brown finish.