I love a good sandwich; but I am also picky about them. The bread has to be excellent, toppings carefully selected, and any of my long-time readers know how finicky I am about ratios. But when the sandwich has each of those things going for it, it can be a thing of beauty. And I am not alone in thinking this, Nancy Silverton in her fabulous book, Nancy Silverton's Sandwich Book echoes these sentiments, and gave me an outstanding midday meal.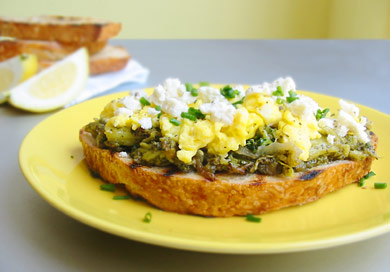 A sandwich to be savored, with care placed in both the ingredients, and the composition, this sandwich of Soft-Scrambled Eggs, Long-Cooked Broccoli, and Feta Cheese was perfect. Nestled on grilled sourdough bread, the crowning achievement to this lunchtime meal was of course, the long cooked broccoli. Now I have eaten plenty of broccoli in my day. In fact, it was my favorite vegetable as a child. But I had never eaten broccoli that had been cooked for hours, each floret soaking up luscious olive oil like a sponge.
Granted, the broccoli is not the prettiest of things after its hours of cooking, but it just may be the most delicious. Who knew that withered, brown, and desiccated could actually be complimentary words? Slightly piquant from cooking with a dried red chile, and squeezed with a touch of lemon juice, the broccoli proved to be the ideal foil for the other toppings. The creaminess of the small-curd, soft-scrambled egg was perfect. The saltiness of the freshly crumbled, French Feta cheese was magnificent. Top the entire sandwich off with a grinding of black pepper and a sprinkling of minced chives, and forget finishing off this sandwich with yet another slice of bread– you have to see this sandwich in all of its glory!
Is your mouth watering yet? 
Served open-faced, on grilled sourdough bread, and topped with soft-scrambled eggs and French Feta cheese, this broccoli is amazing. It is deeply savory, and I think would make a superb side dish, or a smear for crostini also. When you find a stupendous recipe, like this one, the options are endless.
Long Cooked Broccoli
from Nancy Silverton's Sandwich Book
1-2 head broccoli, about 1 3/4 pounds
1/4 cup plus 1 teaspoon kosher salt
4 garlic cloves, peeled and thinly sliced
1 small onion thinly sliced
1/2 cup olive oil
1 whole dried chile
Trim and discard the bottom inch end of broccoli stalk. Peel the remaining stalk, and cut it off, leaving about 1 inch of the stalk still intact on the broccoli florets. Slice the remaining stalk into 1/4 inch by 1 inch pieces. Cut the broccoli into 1 inch florets. Set aside.
In a large pot, boil 8 cups of water. Add 1/4 cup of salt. Cook the cut-up broccoli in the boiling water for 2 minutes, or until bright green. Drain the broccoli, and place in a large bowl of ice water to chill. Drain again when chilled, and pat dry with a kitchen towel.
In a large, heavy-duty skillet, combine the broccoli, garlic, onion, olive oil, chile, and 1 teaspoon of salt. Over very low heat, cook the broccoli, stirring occasionally, for 1 1/2 hours, until very soft and tender. Taste for seasoning. Arrange on slices of grilled sourdough bread and squeeze with lemon. Top with softly scrambled eggs, and crumbled Feta cheese.