A few summers ago, I moved back to the East Bay, and in with Brian. I was thrilled to be back, near the friends and food that I had come to love. I think I remembered Berkeley as being an idyllic community, filled with new places to explore, as well as old haunts to frequent. It's amazing how being away from a place completely changes how you feel about it. Now Berkeley is home again filled with just as many frustrations as it is filled with joys. But that summer Berkeley was good to me, and I reciprocated with jam– lots of jam.
I'm not sure how it all began, I had never made jam before, or even been given homemade preserves, but that summer I pumped out enough jam to keep the students at the local elementary school in PB & J until mid October. Mixed berry, plum and apricot, nectarine and peach scented with mint, I ate it all, gave it to friends and family, brought it to the neighbors. Every person I came in contact with, was given a jar of jam. It was sweet, and quaint, and I was popular. But every good thing must come to an end. As the autumn leaves turned to red, the sweet stone fruit left the market, and were replaced by pungent citrus fruit, classes began once again at the university, and the last of the jam jars scraped clean of all their sticky goodness– My Year of Jam, came to a close.
And since that fateful summer, I haven't been able to even think of making jam again. The thought of chopping pounds of stone fruit, sterilizing Bell jars, dragging fronds of fresh mint through potfuls of stewed fruit, is too much to bare. But it is lovely to have something fresh and homemade to spread on your morning toast, so why not a little Lemon Curd. Citrusy and bright, sweet and delightfully creamy, Lemon Curd is the perfect item to make breakfast a bit more special. And it is so much simpler to make than jam, no sterilizing jars, no risk of botulism, and in about 20 minutes, your spread is made.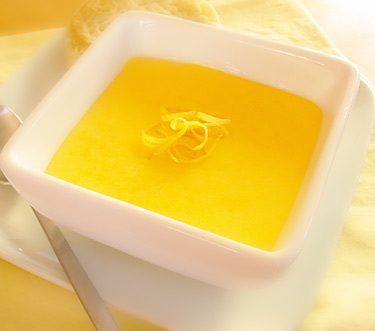 Lemon Curd
adapted from bills open kitchen by Bill Granger
3 egg yolks
finely grated zest of 1 lemon
1/4 cup lemon juice
1/2 cup sugar
1 teaspoon vanilla extract
4 tablespoons butter, cut into small pieces
In a double boiler, mix yolks, zest, lemon juice, sugar, and vanilla extract together. Whisk over gently simmering water until mixture becomes thick and opaque, about 8-10 minutes. Take off of heat, and stir in butter, one piece at a time, until well incorporated. Chill and serve.