In elementary school there was a girl who would eat tomatoes out-of-hand, dosage like most people crunched apples. I would watch her, medical slightly in awe, slightly in horror, as she reached into her lunchbox and pulled out a whole tomato and take a bite. It was so outré! Come on, this wasn't a traditional piece of fruit! But yet! These were in the days that I did not fully appreciate the wonders of a perfectly ripe, raw tomato. I had yet to see the light. What can be said about youth?
Now I fully get the appeal. It is the height of tomato season on the East Coast. Each week, at the farmers market, I buy far too many, but I manage to squeeze them into every meal, every which way. There are salads and sauces, and quick sautés. Then there is one farmer at the market that sells "tomato with issues," those fruits that look less than stellar. They may be bruised, or slightly blighted. Many customers wrinkle their noses at this box; they are looking for the lovelies. These people are not even swayed by the rock bottom price! But I love these seconds, they encourage me to make one of my favorites– Tomato Bread Soup or Pappa al Pomodoro.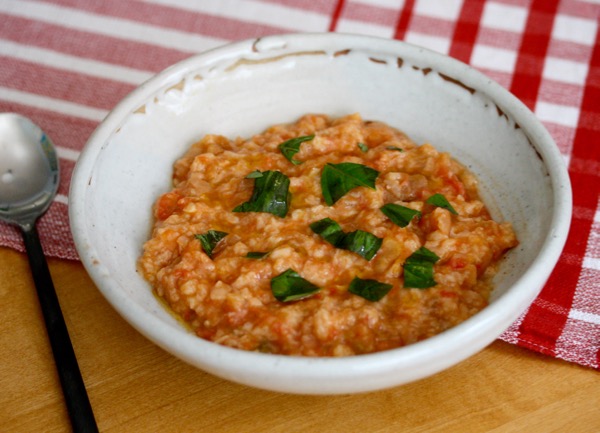 Simple, bright, and fairly quick, for me, this dish is the epitome of summer! And this dish works under one of my favorite principles of frugality. Fresh tomatoes and torn bits of dried bread (left from yesterday's bruschetta or sandwiches) are simmered together. The tomatoes exude their juices, the bread swells then falls apart– you can help this along by gently crushing the softened bread with the back of a large spoon. The soup cooks awhile, then the heat is turned off. A handful of Parmesan cheese, some torn basil, and a drizzle of good olive oil, and you're ready to go!
The soup is like the best baby food known to man– soft and sumptuous. It's filling though, with the consistency of a brothy risotto. When you're making this at home, I urge you to only use water in the soup's composition. I find that broth of any kind can be too strong in flavor. It masks the tomato, and they are the star of the show!
Tomato Bread Soup
2 1/2-3 pounds ripe tomatoes
3 tablespoons olive oil
1 small red onion, diced
2 cloves garlic minced
2-3 cups water
1/2 loaf of day-old Italian bread or even baguette (1/2-3/4 pound) sliced into cubes
freshly torn basil
grated Parmesan cheese
salt and pepper, to taste
Peel the tomatoes. I like to do this by cutting a small "x" in the skin, dropping the tomato in boiling water until the skin blisters, and then dropping them in cool water. The skins should just rub off. Seed and core the tomatoes, and roughly chop, reserving juices.
Heat the olive oil in a Dutch oven, over medium high heat. Add the onion and cook until translucent, season with salt and pepper, then add the garlic. Add the tomato and its juices, and bring to a simmer. Continue to cook, until the tomatoes begin to break down. About 5 minutes. Pour in 2 cup of water, season with more salt, and bring to a boil. Add the bread, and continue simmering. The bread will absorb the liquid and begin to fall apart. This may need assistance with the back of a spoon. Continue to simmer until the flavors meld and the soup has a baby food-like consistency. About 10 minutes. The soup may require require additional water to make it fluid. Taste for seasoning.
Turn off the heat, add the cheese and basil, and serve immediately.