Did everyone have a nice Thanksgiving?
Lots of turkey? Made a dent in the leftovers yet?
That's good.
At my Thanksgiving, I had these nuts.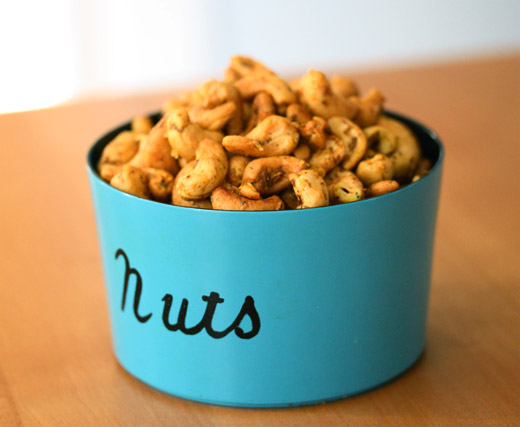 Of course the usual suspects were eaten at the feast as well. But these cashews were a favorite part of hors d'oeuvres hour. (Which of course happened at 3:30 PM, because we ate LINNER or DUNCH at 5 PM. We are celebratory Americans!) And well, this just may be my new favorite nut recipe.
The reason that I'm sharing this recipe with all of you straight off of the first big holiday of the season, and not some clever recipe for what to do with leftovers, is does anyone really need another leftover recipe? With Thanksgiving happening so late this year, the holiday season is surging! You may be already searching for nibbles to serve at your next holiday meal. (Or these nuts would make a nice hostess gift.) Buttery pecans, candied walnuts, or mixed nuts, redolent with warm spices are all common occurrences during the holiday season, but these cashews are different. They are spicy not spiced– buttery, slightly piquant– and will leave you wanting more.
Originally, the recipe from David Tanis's new book, calls for coriander seeds. I was out, but did have some black mustard seed, so I substituted, and the nuts worked out like a charm. I've actually made them a few times. First with blanched almonds, which was very good, but I actually preferred the cashews. (Apparently Tanis does too, because that's what he calls for.) Although the recipe calls for some melted butter, that's what adheres the spices to the nuts, the cashews have an additional, delicious buttery flavor to them all on their own. The cashews is also a slender enough nut to crisp beautifully in the oven.
So here you are, my new favorite nut recipe!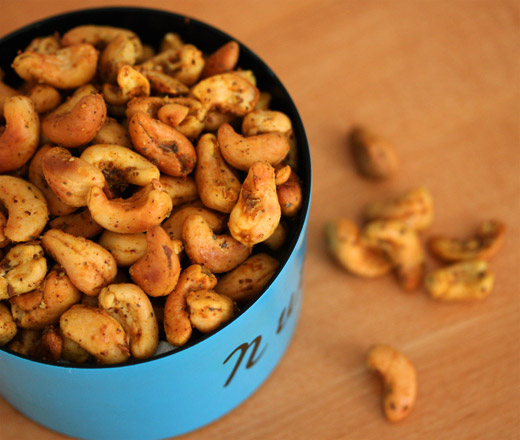 Cashews with Indian Spices
adapted from One Good Dish
1/2 teaspoon black mustard seed
1/2 teaspoon cumin seed
1/2 pound raw cashews
2 tablespoons melted unsalted butter
1/4 teaspoon cayenne pepper
1/4 teaspoon turmeric
sea salt
Preheat the oven to 400 degrees.
In a small, dry skillet over medium heat, toast the mustard seed and the cumin until fragrant and the mustard seeds begin to pop, about 1 minute. Coarsely grind the spices in a mortar and pestle.
Spread the cashews in a single layer in a baking pan. Roast for 7-10 minutes, or until light golden brown.
Drizzle the nuts with the melted butter, sprinkle with the toasted spices, cayenne, and turmeric. Generously season with salt, and serve warm or at room temperature. Nuts will keep in an airtight container for a few days. If you prefer them warm, they can be reheated in a low oven for a few moments before serving.